Georgia teacher Jane Wood Allen fired over racist Facebook posts about Michelle Obama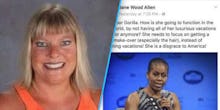 Teachers often tell their students to follow "the golden rule" — treat others the way you want to be treated. But for Jane Wood Allen, a paraprofessional teacher in North Forsyth, Georgia, this rule apparently doesn't apply on the internet.
According to the Forsyth News, Allen was fired Monday after posting racist remarks about first lady Michelle Obama, black people and Muslims on Facebook over the last five weeks.
"First lady Michelle Obama continues to top lists of most admired women in the world," Allen wrote in a post on Aug. 27. "Do you admire her? I admire a gorilla more than I admire her. (Wait I forgot, she is a gorilla)! ... She is the worst example of a first lady ever! (Oh sorry, I meant gorilla not first lady)!"
In another post about Obama that surfaced on Sept. 30, she wrote:
"This poor Gorilla. How is she going to function in the real world, by not having her luxurious vacations paid for anymore? She needs to focus on getting a total makeover (especially the hair), instead of planning vacations!"
Allen's Facebook profile is no longer visible. But over the course of several weeks — in addition to the Obama posts — she shared numerous conservative website article links and captioned them with comments ridiculing a black child's name, as well as writing, "You have no business in the USA anyway!" above an article about Muslims potentially leaving the United States is Donald Trump were elected president.
While announcing Allen's termination on Monday, Jennifer Caracciolo, spokeswoman for Forsyth County Schools, said the district will be making ongoing training efforts to address the level of racism Allen openly displayed.
"Effective Monday, October 3, 2016, Jane Wood Allen has been relieved from duty and is no longer an employee of Forsyth County Schools," Caracciolo told Mic. "Racism and discrimination are not tolerated in our school district. We are committed to ongoing staff training on the acceptance of all individuals."
The district has since launched an investigation into the matter, according to Caracciolo. Let's just hope Allen — now out of her teaching gig — doesn't take to social media blaming immigrants for stealing her job.