'RuPaul's Drag Race' judge Lucian Piane supports Trump; claims LGBTQ issues unimportant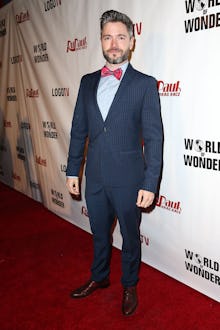 Twitter has swiftly asked this RuPaul's Drag Race personality to sashay away.
Monday night, frequent RPDR guest judge and music producer Lucian Piane drew the ire of many Twitter users after he tweeted and posted several messages supporting Republican nominee Donald Trump. 
Around 9:30 p.m. on Monday, Piane tweeted that most Americans don't understand "how corrupt our country truly is" then added that he will not be voting for Democratic nominee Hillary Clinton. 
After his tweets, MTV News writer Ira Madison also shared some of Piane's Facebook comments, in which he not only attacked Clinton, but backed Trump. 
"Y'all are so brainwashed to think that saying politically correct things makes a good president," Piane wrote. "I happen to think political correctness is mind control and oppression of the freedom of speech. I'd rather trust a loud-mouthed buffoon over some politically contrived and politically correct corporate servant." 
He added, "Sure, I disagree with at least half of what Trump says but at least he says it!" 
Piane later responded to these Facebook posts in a tweet that said, "Never said I was voting for him, I just said I trust him more than her." 
Trump has done little this week to inspire trust in the public. Despite the New York Times leaking his 1995 tax returns, Trump continues to break tradition with every presidential candidate of the last 40 years and not release his tax returns. 
"I'm heartbroken that Lucian would use his platform to put this energy out into the world," former Drag Race contestant Laganja Estranja said in an interview. "A protest vote against Hillary or a vote for a third party is a vote for Trump. This election is not the time for a protest vote."
Twitter, too, wasn't happy with Piane, the man who helped create some of Drag Race's most memorable moments, including Shade the Rusical and Glamazonian Airways. 
"His role on Drag Race is basically that of an antagonist, and it seems like he's continuing to do that with some people," actor, author and former RPDR contestant Willam Belli said in an interview.
"Look at Peter Thiel," Belli continued, referencing the Silicon Valley billionaire who funded a lawsuit that put an end to Gawker.com back in August. "Once people get a little bit of money they start sympathizing with Republicans sometimes because of taxes. I don't know if he's that rich or what his deal is or why he likes Trump. Look, I don't like Trump. I just don't. It's because of what he did to the community I lived in growing up in Atlantic City when I was a kid. A lot of my friends' parents lost jobs because of his fuckin' casino bullshit. But look, I'm not bothered because he lives in California and we all know that California is already Hillary."
In response to some of the criticism lobbied against him by gays on Twitter, Piane tweeted that LGBTQ issues "should be nowhere near the top of deciding factors for this election. People are dying. Wake up." 
Some Twitter users harped on his dismissive statement, making fun of the condescending tone and reminding him that many LGBTQ people died in the Orlando nightclub shooting.
During the back-and-forth on Twitter, Piane also liked a tweet that belittled the ongoing epidemic of transgender homicides in America. When a Twitter user tweeted, "Trans people are dying here in the U.S.," another user tweeted back, "Lots of people are dying." 
Piane liked the tweet. 
Piane previously expressed support for former Democratic candidate Bernie Sanders on Twitter, and even expressed that he wished Sanders were a woman so we could have a female president. 
He's also openly mocked Trump. 
Trump, it should be noted, has previously asserted that LGBTQ people love him, which spawned the Twitter hashtag #AskTheGays. He even promised to protect the LGBTQ community at the Republican National Convention; however, in his promise to protect the community, he pitted LGBTQ communities against Muslims, a tactic that has become popular among right-wing pundits like Tomi Lahren.  
"I will do everything in my power to protect our LGBTQ citizens from the violence and oppression of a hateful foreign ideology," he told the crowd gathered in Cleveland.
But, regardless of what Trump thinks, Piane claims he's happy to listen. Before ending his Twitter wars for the night, Piane tweeted he "will always trust someone who speaks their mind over someone who tells you what they think you want to hear." 
RuPaul's Drag Race stands as one of the few shows that regularly features and celebrates queer people, especially queer people of color. That someone affiliated with the show would embrace a man who has denigrated Latinos, women and Muslim Americans is beyond baffling.  
"We have no comment," a spokesperson from World of Wonder, the show's production company, said in a email.
Mic has reached out to RuPaul's Drag Race host RuPaul Charles and judge Michelle Visage as well as the show's network, Logo, for comment and will update the story. 
One thing's for sure: 
Oct. 4, 2016, 4:04 p.m. Eastern: This article has been updated.