Hurricane Matthew 2016 photos: Images from Haiti, Cuba hit social media during storm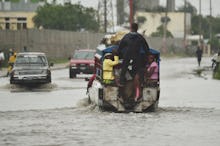 Hurricane Matthew, an Atlantic storm unrivaled in strength since 2007, just touched down in Haiti with what could become "life-threatening" conditions, according to the U.S. National Hurricane Center.
So far, Matthew has already dumped heavy rains on Jamaica. Now, Haiti is experiencing nearly 145-mile per hour winds and could be hit by up to 40 inches of rain — roughly a foot more rain than the most recent Louisiana floods — in certain areas. The rains could trigger "life-threatening flash floods and mudslides" and cause water levels to rise by up to 10 feet, according to a National Hurricane Center bulletin released Tuesday.
On social media, people are posting photos and videos of Matthew's downpour in the Caribbean, as well as preparations for when it comes to town.
As of this report, Matthew has been linked to three deaths — one death in Haiti, one in Colombia and another in St. Vincent and the Grenadines. Matthew is the strongest storm of its kind seen in the region since Hurricane Felix almost a decade ago. 
As of 8 a.m., the storm was 125 miles south of eastern Cuba and moving north at a rate of 9 miles per hour.