Sweet Cakes by Melissa — Oregon bakery that refused lesbian wedding cake — shuts down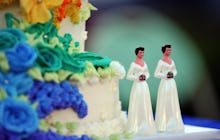 This sweet cake has turned sour.
On Thursday, Sweet Cakes by Melissa told the world it was officially shutting down operations via an announcement on its Facebook page, Gay Star News reported. 
The Gresham-based bakery famously declined to bake a wedding cake for a lesbian couple in August 2013. 
At the time, co-owner Aaron Klein told the Oregonian that "he and his wife, Melissa, turn down requests to bake cakes for same-sex marriages because that goes against their Christian faith." 
In April 2015, a judge ruled that Aaron and Melissa Klein had discriminated against the couple, Laurel and Rachel Bowman-Cryer. The bakeshop owners were ordered to pay the Bowman-Cryers $135,000 in damages, the Oregonian reported. 
The Kleins crowdfunded the fee through a combination of GoFundMe and a "faith-based giving platform," Continue to Give. In total, they raised more than three times the $150,000 they were seeking, or approximately $460,000. 
The Kleins paid the Bowman-Cryers, but the money is currently being held by the state while the Kleins appeal the penalty. According to Gay Star News, the Kleins closed their brick-and-mortar location in August 2013, but have continued to operate out of their home until a few "months ago."
Hiram Sasser, an attorney with the First Liberty Institute, who represents the Kleins, told the Patriot Post that the Kleins are still seeking justice. 
"We are continuing our appeal and look forward to achieving justice for them and all people of faith who may find themselves in similar circumstances in the future," he said.
Laurel and Rachel Bowman-Cryer told the Advocate earlier this month that they have received hateful emails and abusive calls from all over the world since the incident.
Former Oregon governor Ted Kulongoski signed a non-discrimination bill into law in May 2007. It went into effect January 2008, more than five years before the Sweet Cakes incident.