Is Mike Pence's economic record good? Here are 3 data-driven signs Donald Trump is wrong.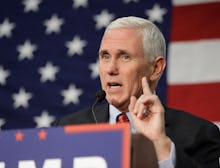 At Tuesday night's debate, Republican vice presidential nominee Mike Pence may very well find himself tasked with defending running mate Donald Trump's financial history — including his refusal to release his tax returns.
But because Trump has never served in public office, there's an additional onus on Pence, who represented Indiana in Congress for 12 years and served as its governor for 3 years.
Beyond answering for Trump's behavior, Pence will also need to defend his own economic record — which Trump has loudly championed.
"Indiana's unemployment rate — and this is the primary reason I wanted Mike — has fallen, when he was there, when he started, 8.4% when he was governor, when he took over, to less than 5% in May of 2016," Trump said when he announced Pence as his running mate.
Does that reasoning hold up?
When you look at the facts, not so much. Here are three major reasons to question Pence's economic record.
Indiana's job growth has been average under Pence — at best
In addition to citing Indiana's unemployment rate as the primary reason for asking Pence to join the ticket, Trump has also called the state's private sector job growth under Pence "very unusual."
But, as FactCheck.org pointed out, Indiana is actually in the middle of the pack in terms of raw jobs added — and the overall unemployment rate has moved down in line with the national average.
You can see how Indiana's unemployment rate compares to the overall U.S. unemployment rate in the tweets below from researcher Richard Auxier, who studies state and local finance at the Tax Policy Center:
As Auxier points out, state employment levels often lie very close to national ones. A more telling measure of a governor's record isn't how much job growth increased or declined — but rather how that growth compared with the national average.
On that count, Pence is less impressive.
Under his watch, Indiana added 153,800 jobs, a 5.3% growth rate; that rate was actually significantly lower than the national average of 6.6% over the same period. 
Pence's record on LGBTQ rights and Planned Parenthood has been costly for Indiana
Pence gained national attention in March 2015 when he signed the Religious Freedom Restoration Act — a law that effectively legalized bigotry by allowing landlords, bosses and others to discriminate against LGBTQ individuals.
The law and its ensuing backlash quickly inspired a corporate flight from Indiana.
Companies like Angie's List and Salesforce vowed to eliminate or reduce all spending in the state, and an analysis from the Center for American Progress estimated that over the course of six years, the law would cost Indiana's economy more than $256 million. Even after the law was updated in April 2015 to be less discriminatory, Angie's List CEO Bill Oesterle called the fixes "insufficient" in a statement.
And that's not the only one of Pence's social policies that has come with a big, unexpected price tag. 
Under Pence's watch, Indiana dramatically slashed funding for Planned Parenthood. Even clinics that didn't perform abortions were eventually shuttered, leaving some rural Indiana residents without any access to HIV testing.
That policy, it turns out, has taken a toll on the state's financial standing, as well as on the health and wellness of its citizens. A Chicago Tribune investigation revealed that the defunding led to an extensive HIV outbreak in a tiny town called Austin, Indiana.
Pence eventually intervened and set up a needle exchange program, but it may have been too little too late to offset the financial impact: The outbreak's estimated cost to taxpayers is $200 million.
Pence's policies have been bad for poor workers' wages in Indiana
Back in March, the Northwest Indiana Times reported that Indiana incomes were "mired near the bottom nationally," in addition to the state having a higher cost of living than nearby Ohio or Illinois.
Pence has arguably not helped, at least on the low end of incomes: Though he's only been in office for three years, he's signed at least two pieces of legislation that directly limit wages for Hoosiers.
The first was in 2013, when he signed a bill that made it illegal for any local governments in Indiana to pass their own laws raising the minimum wage. Then, in 2015, Pence signed the repeal of Indiana's common construction wage, abolishing an 80-year-old minimum wage for construction workers and contractors assigned to publicly funded projects. 
While conservatives often argue that minimum wages kill jobs, data suggests otherwise.
Pence also defended Indiana's so-called "right to work" laws, which undermine unions and their ability to collect dues.
"Pence... pushed this," Economic Policy Institute vice president Ross Eisenbrey said of "right to work" laws in a phone interview with Mic. "The idea was that Indiana was going to get some great boost. But you don't see it in the wage data."
In fact, an analysis from the EPI found that wages in "right to work" states are 3.2% lower on average than in states without them.