Vice presidential debates don't decide elections — but tonight's will still tell us a lot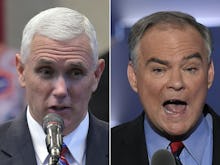 Here's how to watch the VP debate online.
The debate between Sen. Tim Kaine and Gov. Mike Pence is certainly the most anticipated vice presidential debate since the last one.
Vice presidential debates rarely change the course of campaigns. The most memorable moments usually come in the form of quippy one-liners ("Senator, you're no Jack Kennedy"), but no modern election has ever changed tides because of what did or didn't happen in a face-off between vice presidential nominees.
Instead, VP candidates generally aim to accomplish two things on the debate stage: First, do no harm — a good performance will do little to boost a lagging campaign, but a poor performance could damage a ticket. Second, the candidates must convince voters they're capable of taking over as president at a moment's notice.
Those minimal expectations make the stakes of vice presidential debates much lower than the presidential contests. Tuesday's showdown between Kaine and Pence in Farmville, Virginia, moderated by CBS News' Elaine Quijano, is no different. Chances are small that the debate produces a decisive moment that affects the outcome in November.
But that's not to say the vice presidential debate is without consequence. While it may not prove to be a turning point in the election, the debate will provide insight into how both campaigns plan to execute the final stages of the race.
The debate is nominally a showdown between Kaine and Pence, but it's really about Hillary Clinton and Donald Trump. Here's what each ticket-mate hopes to accomplish on Tuesday night:
The elephant in the room
Kaine's tasks in the debate are twofold: Keep Pence on the defensive by making him answer for Trump's most outlandish statements and positions, while simultaneously tying Trump to Pence's most conservative positions on social issues.
Since joining the ticket, Pence has been forced to react to Trump's tendency to fly off the handle, often left to clean up after his running mate. Expect Kaine to challenge Pence regarding Trump's recent outbursts, especially Trump's fight with former Miss Universe Alicia Machado and the revelation he declared a $916 million loss on his 1995 tax returns.
"I hope Tim makes Pence own every bit of Trump's radical, racist, misogynist agenda," Connecticut Democratic Sen. Chris Murphy told Politico.
Kaine is also likely to hit Pence, and by extension Trump, over the Indiana governor's record on social issues, particularly gay rights. Pence was behind Indiana's "religious freedom" law that provoked a national backlash in 2015, and the Clinton campaign sees an opportunity to tie Trump to Pence's most conservative views, especially since Trump himself is seen as more socially liberal.
The Pence plan
For his part, Pence will likely go hard at Clinton on issues Trump failed to press during the first presidential debate, particularly her handling of the attack in Benghazi, her use of a private email server and her record as secretary of state. 
"Hillary Clinton's record on foreign affairs alone could take up the whole 90 minutes," Pence told a crowd on Monday. "And it wouldn't be a pretty picture."
Pence has plenty of experience in one-on-one debates, and will almost certainly be better prepared than his running mate was in the first debate: The Republican VP nominee has held actual debate prep sessions with Wisconsin Gov. Scott Walker playing the role of Kaine. 
The Indiana governor will also attempt to brush off Kaine's attempts to tie him to Trump's most controversial comments and instead shift focus to Clinton's record.
"[Kaine will] take shot after shot after shot at Donald Trump," Walker said on a New York radio show Sunday, according to ABC News. "Mike Pence's job is to come in and quickly dismiss these attacks and quickly pivot to the problems of Hillary Clinton."
What it says about the state of the race
The Clinton campaign hopes a solid performance by Kaine will help them continue to win over white, suburban women who take offense at Trump's comments about women. Kaine's mission is to present Pence not as a mild-mannered midwestern governor but as an ultra-conservative who would bring his brand of social conservatism to a Trump administration.
The Trump campaign hopes Pence will be an effective character witness for Trump and reassure anxious undecided voters that the real estate magnate is a safe, reliable alternative to Clinton. Pence will hammer home the message that Trump is looking out for working Americans, while Clinton is a quintessential Washington insider.
Though the debate is unlikely to be remembered as a landmark moment in the campaign, the ammunition Kaine and Pence bring to their showdown will be a valuable indication of how each campaign is assessing their own strengths and weaknesses.