How does Apple Pay work? A guide to paying for things with your iPhone.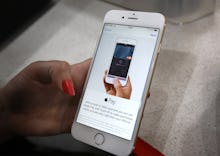 Apple Pay is a simple way to make payments with your Apple devices in stores, in apps or the web. Apple states the feature is the "safer way to pay," though reports have cast doubts upon the app's security. That being said, it is convenient for those looking to expedite their payment process, and it's now available in 10 countries, the most recent addition being Russia. Here's how to use Apple Pay:
Setup: Start off by opening the wallet app on your iPhone and selecting "Add Credit or Debit Card." Follow the steps to sync your card of choice and tap "Next." From here, your bank account will verify your card, which can take a few seconds or days depending on your bank and how much information they have or need. Usually, it happens almost instantly — so go ahead and tap "Next" once it's verified. Now it's time to go.
Using Apple Pay in stores: If a vendor has an Apple Pay logo, you can pay your transaction without ever opening your wallet. Simply press your finger against the home button's Touch ID while holding the iPhone within an inch of the reader. If successful, you'll see "Done" and a checkmark on the display. If asked whether you'll be paying credit or debit, always choose credit. 
Pay within apps: You can use Apple Pay within apps or the App Store itself to make easy payments. When purchasing, select the Apple Pay option when checking out and make sure your billing, shipping and contact information are correct. From here, place your finger on the iPhone's Touch ID and wait to see "Done" and a checkmark. 
Pay online: You can also use Apple Pay within the Safari web browser. As usual, select the Apple Pay option and make sure all of your information is correct before pressing the Touch ID. You should be all checked out from there.