Trump supporter's float in Indiana parade depicts Hillary Clinton in an electric chair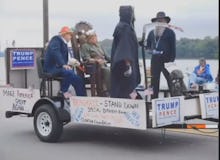 Violent rhetoric against presidential candidates has become a disturbing trend in the 2016 campaign.
But one man in an Indiana town took that rhetoric a step further over the weekend, creating a parade float that depicted Hillary Clinton in an electric chair, with Donald Trump sitting beside her ready to flip the switch, a local Fox affiliate in the Hoosier State reported.
Also included on the float was a grim reaper and an "Easter Island style head statue with a handwritten sign saying 'Obama' attached to it," the Fox affiliate reported.
The float was part of the Aurora Farmers Fair Parade on Saturday in Aurora, Indiana, a town on the state's border with Kentucky.
The Fox affiliate said the float was was created by Frank Linkmeyer and his brother, Bob, who told the Fox station they had "no intentions of offending anyone."
But the float did just that, with neighbors expressing outrage over the violent imagery, saying it was inappropriate for a family friendly event.
"Who thinks this is appropriate for a fair parade where children, some of them minorities and girls, are marching and playing instruments and watching?" one Aurora resident, Penny Britton, wrote on Facebook. "This makes me embarrassed to say I live here."
The City of Aurora condemned the float in a statement provided to the Fox affiliate, saying the "Imagery portrayed by the float is simply not consistent with the values of our citizens or who we want to be as a city."
We are disappointed that the actions of a few individuals have taken the focus away from what was otherwise a very successful 108th Aurora Farmers Fair. The Aurora Lions Club is the leading charitable organization in our City. The City of Aurora refuses to believe that this particular float is in anyway a reflection of the Aurora Lions Club or its members.
This is not the first time violent imagery has made its way into the 2016 campaign.
Last month, a man in Oregon hung a Clinton effigy from a crane with the words "vote Trump" next to hanging from the display.
And Donald Trump himself has stoked the flames of angry Americans, suggesting Clinton's Secret Service agents disarm and "see what happens to her."
Trump has also suggested that "Second Amendment people" could stop Clinton from appointing Supreme Court justices, a wording that many interpreted as a call for her assassination.