Who robbed Kim Kardashian West? Swirling rumors suggest jewel heist was an inside job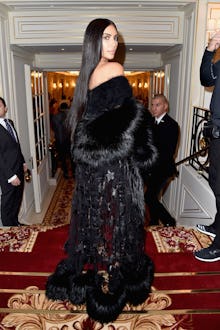 Settle in, armchair sleuths, because the rumors are swirling about who robbed Kim Kardashian West over the weekend. Unnamed "sources" told TMZ that Paris police think the caper "reeks of an inside job," in the tabloid's words. 
Anonymous individuals told the gossip rag that "police and the Kardashian family don't believe it was a coincidence that Kim was bodyguard-less at the time the robbers showed up." These sources told TMZ they "think the robbers were tipped off it was the right time to strike."
Reports of the incident paint a scenario nightmarish by any standards: Kardashian West was accosted in her room at the No Address Hotel in Paris around 2:30 a.m. on Monday, according to People. The magazine reported that the reality TV star was "shaken but physically unharmed" after five "masked men dressed as police officers" ordered her out of bed, threatened her with a gun and tied her up in the bathroom, locking her in while they stole about $10 million in jewelry along with two cell phones. Sources told US Weekly the reality star thought she was going to be raped or killed.
Her husband, Kanye West, was in the middle of a concert at New York City's Citi Field when he received word of the incident and abruptly halted his performance mid-"Heartless," citing a "family emergency." 
Perhaps anticipating that the internet's finger would point at bodyguard (and tweeter of fire tweets) Pascal Duvier, arguably Kardashian West's closest companion, TMZ clarified that — "while there was a very small window when the robbers had easy access" — no one, least of all the victim herself, is saying that Duvier did this.
"The Kardashians are in no way suggesting the bodyguard was in on it ... in fact, they say they know he wasn't," TMZ reported. "But they are convinced someone tipped off the robbers to strike at precisely the moment they could get in and out without detection." 
The tabloid said police are eyeing a "long suspect list," on which are the names of other hotel residents and the many potential tipsters familiar with Kardashian West's Paris Fashion Week schedule.
Unfortunately, Kardashian West made viral headlines Sunday when she debuted a new makeup-free look at the Balenciaga show. If the whole internet knew roughly where she was and when, well, tough cookies, everyone's a suspect.
According to TMZ's sources, Parisian police are paying particularly close attention to people "in and around the building."