Will Hurricane Matthew hit the US? Florida, North Carolina, other states on high alert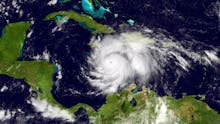 Hurricane Matthew, currently a Category 4 storm, made landfall in Haiti on Tuesday, bringing with it 145-mph winds and driving rain. The storm is expected to dump up to 40 inches of rain in some parts of Haiti, according to a bulletin from the U.S. National Hurricane Center in Miami. It's also expected to move northward — toward the U.S.
"We do not know yet whether the center of Matthew will actually come ashore in Florida. That's possible," Rick Knabb, director of the hurricane center, told the Associated Press. "It also could go to the right and stay farther offshore. The farther offshore it is, the lesser the impacts will be, but the impacts are going to happen no matter what."
According to the AP, Florida Gov. Rick Scott has already begun warning Florida residents to "prepare for the possibility of a direct hit." According to the bulletin from the National Hurricane Center, a hurricane watch is in effect for parts of eastern Florida, from Deerfield Beach to the Volusia/Brevard county line. 
A hurricane watch, according to the bulletin, "is typically issued 48 hours before the anticipated first occurrence of tropical-storm-force winds," meaning Hurricane Matthew could make its way to Florida's coast before the end of the week.
The effects of Hurricane Matthew could be felt all the way up the Eastern Seaboard of the U.S. Knabb tweeted a warning on Monday directed to the entire East Coast, urging residents to find out as soon as possible whether or not they are in an evacuation zone.
According to USA Today, latest predictions for the storm as of Tuesday had Matthew potentially "curving into the Carolinas, potentially hitting near the South Carolina/North Carolina border early Saturday."
North Carolina Gov. Pat McCrory has reportedly declared a state of emergency in parts of central and eastern North Carolina. As Hurricane Matthew makes its way up the coast, its effects could be felt from Florida all the way up to Maine. 
The question is, how close will Matthew come to land, and how much damage will the storm ultimately cause?
Oct. 4, 2016, 1:33 p.m. Eastern: This story has been updated.