Google promises its new Pixel phone has the best smartphone camera ever made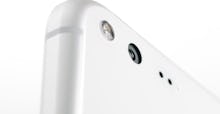 Bye-bye, Nexus. Google announced its new Pixel line of smartphones at today's launch event in San Francisco: the Pixel and the Pixel XL. 
Read more: How to watch the Made by Google event online
The phones come equipped with new artificial intelligence called Google Assistant, which works like a Google-search-equipped Siri, able to "answer more elaborate questions and conduct more complicated tasks," according to Gizmodo. It also boasts extremely fast charging: seven hours of power in just 15 minutes, according to the company.
But the big selling point for the Pixel might be its camera, which Google is calling the "best smartphone camera... EVER," citing a report by the image-quality analysts at DxOMark.
The specs on the camera are serious: 12.3 megapixels, an f/2.0 lens and 1.55-micron pixels, which means each pixel has a large surface to collect light. 
To compare, the iPhone 7 has a 12-megapixel camera and an aperture of f/1.8, which means it's a little better in low-light settings. Not to mention its dual-lens system, which can create those popular blurred-background portraits.
Need another reason to get it? There's a headphone jack.