Damian Marley is turning a former state prison into a weed farm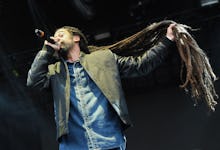 As one of the most distinctive voices in modern reggae, Damian Marley knows to flip a metaphor for massive effect. He did it earlier this year with his "Nail Pon Cross" video, in which he depicted a black boy, a Muslim man, a Latino man and a police officer being crucified on telephone poles. That video was meant to inspire discussion about how people discriminate based on appearances. Now, in a new venture, Marley is bringing his knack for symbolism into the real world — and using it to affect real change in one California town and beyond.
Billboard reported Monday Marley and Ocean Grown Extracts announced plans to turn a California state prison that once incarcerated drug offenders into a grow space for cultivating medical marijuana. 
"Many people sacrificed so much for the herb over the years who got locked up," Marley told Billboard, noting the poetic turn. "If this [venture] helps people and it's used for medicinal purposes and inspires people, it's a success."
According to some of the details of the buy in Coalinga, California, it's already done a world of good. Billboard reported Marley and his partners' $4.1 million purchase relieved some of the town's economic woes, immediately taking care of its $3.3 million debt.
The farm is also set to bring 100 jobs and an estimated million dollars in annual tax revenues, a boon for a town that has suffered from California's historic drought and falling oil prices. If California decides to approve its upcoming Proposition 64, an initiative that would legalize marijuana for recreational use, the farm could stand to bring in a lot more. CNN reported in April that a small town in Colorado was all but saved from a so-called "abyss of nothingness" by marijuana legalization. 
California's vote comes up in November, alongside similar measures in Arizona, Maine, Massachusetts and Nevada. Recent polls suggest most Californians support legalization and the ballot will likely pass — just in time for Marley's first crop, which is expected in January. 
California's legalization would be a small step toward ending part of the war on drugs the United States has been waging for years. Every year, states spend around $3.6 billion enforcing marijuana possession laws, according to the American Civil Liberties Union, as reported by a New York Times editorial in 2014. Arrests affect black communities disproportionately, as black people are nearly 4 times more likely to be arrested, even though there's roughly the same rate of black and white smokers, the ACLU reported.
"I didn't know it would happen this way," Marley told Billboard, discussing legalization. "This was definitely something we were working towards for a long time, before I was even born. There was Peter Tosh's 'Legalize It' and songs like that — this is something our culture has been working towards. I was optimistic that it would one day be legal — and now it is here." 
It seems only right that the Rastafarian rapper — a long-outspoken proponent of marijuana in interviews and songs — should be one of the first to profit.