Joe Biden excoriates Trump for comments on veterans and PTSD: "This is an ignorant man"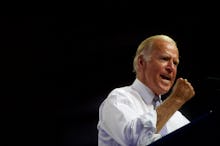 Vice President Joe Biden rebuked Donald Trump for comments the Republican presidential nominee made on Monday suggesting that veterans with post-traumatic stress disorder are weaker than those who don't experience the mental illness.
During a campaign rally for Hillary Clinton in Florida on Monday night, Biden raised his voice as he spoke about the thousands of veterans who died serving in the Middle East for more than a decade, adding that there are thousands of others who came home with the invisible scars of seeing their fellow service members die.
"Where in the hell is he from?" Biden said of Trump.
Biden went on to tell the story about a soldier who risked his life to save a fellow soldier who Biden was awarding a silver medal to.
"When I went to pin it on him in front of the entire brigade, he said to me — looked at me and said, 'Sir, I don't want the medal. I don't want the medal,'" Biden said. "You know why? He said, 'He died. He died, Mr. Vice President. I don't want the medal.'"
"How many nights does that kid go to sleep seeing that image?" Biden added, raising his voice in anger. "Dealing with it?"
Trump's comments came Monday morning during a Q&A with veterans in Virginia, and quickly drew ire on social media.
"When people come back from war and combat and they see things that maybe what the people in this room have seen many times over, and you're strong and you can handle it, but a lot of people can't handle it," Trump said.
Biden continued to attack Trump for the remarks in a CNN interview that aired Tuesday morning, calling Trump an "ignorant man" for using the words he did about PTSD.
"This is an ignorant man," Biden told CNN's Chris Cuomo. "This guy says things he has no idea about. He's not a bad man. But his ignorance is so profound. So profound."