'WWE 2K17': the definitive preview — trailer, roster and gameplay features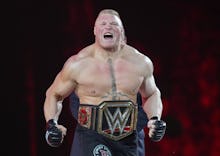 Wrestling fans, get ready to step back into the ring with the arrival of WWE 2K17 for Xbox and Playstation. The latest installment, which comes out Oct. 11, brings a host of new features and roster additions. Here's what to expect from WWE 2K17.
Gameplay features
The WWE franchise has been redesigned for a more simulation-based style rather than "arcade-centric" gameplay. 2K17 brings back the ability to fight in the crowd and backstage areas — a feature not available since WWE SmackDown vs. Raw 2008. A new secondary submission system has been added, as well as updates to ladders, taunts and general gameplay mechanics. 
In the spirit of adding realism to WWE, this year's edition will feature a new "promo engine." The mechanic lets players "express themselves to the WWE Universe and also call out or respond to other WWE Superstars." The promo engine is particularly useful in MyCareer mode, where interviews and responses can affect the trajectory of a player's journey. To top it off, a new highlight replay system has been added to record and save clips from memorable matches.
Trailer
Roster
WWE 2K17's roster should be massive. While the full list has yet to be released, last year's edition featured 120 fighters — 150 with downloadable content included. And it's safe to assume the following installment will bring even more wrestlers to the table. 
Here's just a sample:
According to Forbes, several popular YouTubers were recently invited to London to test the nearly completed game, and one of them, Tom Cushnie, had the mind to record footage of "every WWE superstar" and their ratings in the upcoming game. Take a look for yourself below: