Welcome to peak pumpkin spice: Pumpkin spice edibles are here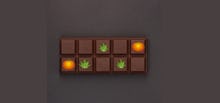 It's a pumpkin spice world and we're all just living in it.  
This year, roughly 60 foods and counting have been blessed with the pumpkin spice flavor, a comprehensive list from People noted. The flavor that tastes like a candle is back for its seasonal dominance — this year beginning as early as August (yes, August), and the world of marijuana edibles has caught on, too. 
Enter: pumpkin spice-flavored Liquid Gold Bars, a chocolate that's laced with pot and that beloved pumpkin spice flavor. 
GFarmaLabs has been selling its pumpkin spice Liquid Gold bars since fall 2014, GFarmaLabs founder Ata Gonzalez said in an email, noting it that it's a seasonal product. The product is on trend, considering Americans love themselves some pumpkin. In 2014, consumers spent $361 on pumpkin products, Marketwatch reported. 
This special chocolate can be yours for $20 per bar. It's sold at dispensaries in California and Washington, the company said in an email, noting that the chocolate bar has 210 milligrams of THC, aka roughly 35 milligrams per serving. The website says the Liquid Gold bars have the highest THC concentration in a chocolate bar. (Gonzalez said that the average cannabis chocolate bar in California has 180 mg of THC.) 
"The sales for the product have been amazing," Gonzalez said. "We didn't anticipate selling so many for a seasonal product, as it sells as much as our regular line during this time."
It'd be wise not to gobble up this pumpkin spice cannabis chocolate too quickly — edibles can take longer to kick in compared to smoking or vaping, Mic previously reported. Even acclaimed New York Times columnist Maureen Dowd once ate too much of a special chocolate bar. (Of course, she survived to tell the tale.)
Not into the edibles scene? There's allegedly a pumpkin spice strain of marijuana in California, according the OC Weed Review, a blog run by a marijuana patient in Orange County, California. The reviewer concluded, however, that "nothing about this medication other than its color suggested pumpkins."
But if you're more into chocolate and less into cannabis, there are plenty of options to get your pumpkin spice fix: pumpkin spice Lindt truffles, pumpkin spice Hershey's kisses and Ghirardelli milk chocolate pumpkin squares are here to indulge your craving. 
And, if you've got the elbow grease to spare, you could always make your own pot brownies and add a dash of pumpkin spice.