The Mediterranean diet could be the fast track to a longer life — here's what to eat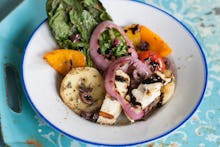 A delicious diet that might help extend your lifespan? Yes, please! A recent study revealed that the Mediterranean diet could prevent 19,000 deaths in the UK alone — think of the impact these eating habits could have worldwide! 
The July 2016 study published in BMC Medicine found that those who consumed more foods within the construct of the Mediterranean diet were at lower risk for heart disease and mortality in the UK. 
And fortunately, this isn't one of those gross, raw vegetable diets that will make your extended life kind of suck with its lack of deliciousness. The Mediterranean diet, which is the traditional diet of people living in Greece and Southern Italy, is hearty in grains, fruits, vegetables, legumes and olive oil, and low in red meat consumption and moderate in fermented dairy products, fish, poultry and wine. On the "yes" list: pasta, cheese and wine! 
Here are some recipes to get you started on your Mediterranean dining adventure. 
Oh, and a trip to Greece wouldn't hurt either. Ask your doctor if she can prescribe one. 
Honey chicken salad with grapes and feta
Get that moderate consumption of fermented dairy (i.e. feta) and poultry in with this tasty chicken salad that can be used in a sandwich, on top of a green salad or just enjoyed on its own. Get the recipe here.
Lemon soy roasted branzino
This Mediterranean sea bass common on Greek and Italian menus gets an Asian twist with this soy-sauce and butter roasted recipe. Get the recipe here.
Mediterranean einkorn pasta
This homemade fettuccine uses einkorn, an ancient grain, and is tossed with healthy Mediterranean delights like chickpeas, feta, olives and more! Get the recipe here.
Greek lemon chicken soup
Chicken soup is considered a health food in pretty much every culture. Make this one zingy with lemon and therefore Vitamin C! Get the recipe here.
Lemon and dill chickpea salad
This recipe is as easy as opening a can of chickpeas and dressing them up a little! A healthy legume side for whatever Mediterranean entree floats your boat. Get the recipe here. 
Sicilian gnocchi and sardines
While this starchy potato dish may not be diet food, per se, sardines provide lean protein and plenty of flavor that keeps you away from the cream sauce. See how this Mediterranean diet thing works? Get the recipe here. 
Mediterranean farro salad
Whole grains, chopped veggies and a basic oil and vinegar dressing make this salad as healthy as it is delicious. Get the recipe here.
Spiced beet salad with citrus-ginger dressing
This refreshing beet salad is served with Greek yogurt, which adds creaminess without all the unnecessary fat. Get the recipe here.
Baked falafel burgers
Turn your burger craving into a Mediterranean feast with chickpea patties and leafy buns that turn a decadent dish into a seriously healthful dinner. Get the recipe here.