Top 2016 election conspiracy theories — Anderson Cooper's CIA ties, Donald Trump and more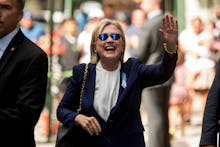 Do you sometimes feel like the presidential election is like an episode of The Twilight Zone? You're not alone. 
From body doubles to sabotaged microphones, the 2016 election is so weird and wacky (even with endless fact-checking) that there's plenty of conspiracy theories to go around.
There's even been a JFK conspiracy theory.
"I do feel sometimes like this campaign has entered into an alternative universe," Hillary Clinton said during a recent appearance on ABC's Jimmy Kimmel Live.
Donald Trump has said repeatedly that he's convinced the election is downright rigged by the Democrats.
"Nov. 8, we'd better be careful, because that election is going to be rigged," he said at a recent rally in Columbus, Ohio. "People are going to walk in and they're going to vote 10 times, maybe, who knows?"
What we do know is that conspiracy theories are abundant and there's no shortage of people who believe them.
Here's a look at a few of the most outrageous rumors swirling around the 2016 presidential election — so far.
CNN's Anderson Cooper works for the CIA
Alex Jones, the conservative radio talk show host and professional conspiracy theorist, said this week that the second presidential debate, on Oct. 9, hosted by CNN's Anderson Cooper and ABC's Martha Raddatz, is rigged because Cooper works for the CIA.
"He's admittedly CIA," Jones said recently on his radio show.
He's not exactly wrong.
Cooper did an internship at the CIA after he graduated college. "It was less James Bond than I hoped it would be," he said, according to the Washington Post.
Trump's debate microphone was defective "on purpose"
During the first presidential debate on Monday, many viewers (including Howard Dean, who accused him of using cocaine) noted the candidate's  audible sniffles.
Trump denied sniffling at all and said something was wrong with his microphone. "Was that on purpose?" he asked reporters after the debate, according to the New York Post.
On Friday, the Commission on Presidential Debates said there was an issue with the audio. "Regarding the first debate, there were issues regarding Donald Trump's audio that affected the sound level in the debate hall," the commission said in a statement.
Google is suppressing negative information about Clinton
At a recent rally in Wisconsin, Trump again said that Google was hiding negative search engine results for Hillary Clinton. He touted an Independent Journal Review poll conducted by Google Consumer Surveys that showed Trump in the lead.
"That's despite the fact that Google's search engine was suppressing the bad news about Hillary Clinton. How about that?" he said.
Politifact rated his claim that Google is manipulating its algorithms in favor of Clinton as "mostly false."
Clinton has a body double because she's sick
After Clinton abruptly left a 9/11 memorial service in New York City, her campaign said she was "overheated." She went to her daughter Chelsea's Manhattan apartment and reappeared hours later, looking much better.
Conspiracy theorists quickly suggested that it was a body double. They said there was no Secret Service seen on the street when she re-emerged.
Many people pointed to Teresa Barnwell, a Hillary impersonator, as the presidential candidate's body double.
But as the Daily Beast reported, "Barnwell was sitting around and eating lunch in Los Angeles, waiting to shoot an episode of Spike TV's Lip Sync Battle (alongside a Bill impersonator, naturally) when she first heard about it."
Hillary Clinton started the "birther" conspiracy theory
Donald Trump has suggested for years that President Barack Obama was not born in the United States. After months of campaigning for president, he said that he agreed that Obama was born in Hawaii.
Last month, Trump said he now believes that Obama is an American citizen. But he said that he was just finishing what Hillary Clinton started.
"Hillary Clinton and her campaign of 2008 started the 'birther' controversy," Trump said in a speech last month. "I finished it. I finished it. You know what I mean."
In reality, Clinton never peddled the birther claims that Trump promoted for years.