The year's first transphobic Halloween costume, the "Tranny Granny," has arrived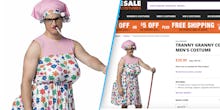 This time last year, a costume designed for men to make them look like Caitlyn Jenner on her historic Vanity Fair cover hit the internet. "You probably won't break any Twitter records when you wear this outfit like Caitlyn did when she first made her account, but you'll be sure to get a few laughs out of your friends and the other guests at the get together," the costume's description read.  
The outfit, which was comprised of a white corset and a sash that read "Call Me Caitlyn," was slammed for being insensitive, transphobic and making a mockery of Jenner's transition. 
Unfortunately it looks like we still haven't learned our lesson because less than a month before Halloween, yet another transphobic costume (that was sold last year as well) is back: the "Tranny Granny." 
Up until Tuesday, the costume was being sold on Walmart.com and Amazon.com. 
"The costume includes a white tank dress with pink collar and colorful flowers all over as well as curvaceous butt and boob pads to complete the look," the Walmart.com description read, according to the Huffington Post. "This granny wouldn't go anywhere without her pink babushka with flower design headband to keep her hair perfectly in place. Slap on some makeup and get ready for your granny walk and you will have the room roaring with laughter!" 
Following a flurry of complaints early on Tuesday, Walmart.com pulled the costume from its site. According to one Wal-Mart spokesperson, the costume was posted by a third party. 
"It is a third party marketplace item that is available on a variety of different sites," the spokesperson said in an interview. "This was one [item] that clearly violated our policy and we very quickly removed it. We're appalled that the seller put this item up." 
"The way our marketplace works, there are various marketplace sellers that can upload products from their catalog to our website," the spokesperson continued. "I don't know who the exact seller was. This was a clear violation. This shouldn't have been on the site to begin with."
Soon after Wal-Mart's move, Amazon removed it as well, but not before we took a screenshot. 
Still though, some websites are attempting to sell the item. The costume's manufacturer, Rasta Imposta, now sells them as "Manny Granny" costumes. Spirit Halloween, the costume supplier that notably manufactured that Caitlyn Jenner costume last year, is also selling the granny costume, but on its website it's called "Adult Granny Costume." According to a spokesperson at Spirit, it never called it a "Tranny Granny" costume at all on its website. 
On sites like Wholesale Halloween Costumes, Costume Super Center and Pure Costumes, the outfit is actually still called the "Tranny Granny" costume.
Offensive Halloween costumes are of course nothing new, with things like blackface and cultural appropriation running rampant during this period. And this particular costume (and the Caitlyn Jenner one as well) takes aim at the transgender community while also using a slur for transgender people: Tranny. 
"The word 'tranny' and the stigma associated with it is often used to humiliate, dehumanize and degrade transgender women in a way that challenges and discredits our womanhood," Ashlee Marie Preston, a transgender activist, said in an interview. "When society refuses to view us as women, we are instantly filed away under the 'it' category and stripped of our humanity." 
Not only that, it's furthering the idea that transgender people are a joke. 
"Placing a cisgender man in 'granny-like' attire, and marketing it as the 'Tranny Granny Costume,' is such a poignant reflection of how society views trans women," Preston said. "It perpetuates the idea that at the end of the day we are merely men in women's clothing. The trans experience is often dismissed and rarely taken serious; and Wal-Mart's illustration of what a 'tranny' looks like underscores the sophomoric, slapstick, campy humor associated with being transgender or a 'tranny.'"  
And by dehumanizing them, this costume could lead to violence against women like Preston. In 2013, 72% of the victims of hate violence homicides were transgender women.
Last year, Spirit defended its Jenner costume, telling the New York Daily News that it was "proud to carry the costume that celebrates her." Let's hope for a better defense this time. 
Mic has reached out to Rasta Imposta, Wholesale Halloween Costumes, Costume Super Center and Pure Costumes for comment.