Beneath Mike Pence's smooth debate performance, there's a deeper problem for Trump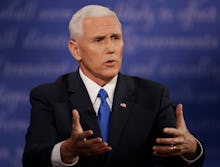 FARMVILLE, Virginia — In the end, it wasn't about them.
Democratic Sen. Tim Kaine and Republican Gov. Mike Pence came into the debate arena here at Longwood University Tuesday night with a common challenge: Making the case for running mates with deep vulnerabilities of their own.
As vice presidential hopefuls, Pence and Kaine had to go beyond proving their ability to lead if something befell a future President Donald Trump or Hillary Clinton. They had to do their best in a tight race to defend their nominees' weak spots and exploit those of their opponents while selling voters on two very different visions for America.
Both men started lobbing attacks within minutes. The broadsides largely focused not on each other, but Clinton and Trump.
Pence turned in a mainly smooth performance — arguably better than that of Trump in his own first debate — but Kaine did get to drop the line he came to Farmville to throw in Pence's face: "He is asking everybody to vote for somebody he cannot defend."
Kaine's job for the evening: "Come in here and talk about what the Clinton-Kaine ticket wants to do, defend her when she's attacked and go after Donald Trump — and [make] Mike Pence [own] all of [Trump's] baggage," said Mo Elleithee, a former aide to both Clinton and Kaine who now heads Georgetown University's Institute of Politics and Public Service.
Coming in, Pence likely didn't want to dwell on Trump's less palatable positions and statements, but the very nature of the Trump phenomenon made that nearly impossible, Elleithee said.
"There is nothing Mike Pence can do to change the trajectory of this race, because what's weighing them down is Donald Trump," he said. "In some ways the worst thing that could come out of this is commentary that says Mike Pence did a better job than Donald Trump, because Donald Trump's head will just explode."
Larry Sabato, director of the University of Virginia Center for Politics, sounded a similar note, saying that even Pence's steadiness and Kaine's rocky performance would not change the direction of the campaign.
"Tim Kaine started out too aggressively, and interrupted too often, but he got his points across about Donald Trump. Pence came across as the calm, considered one, but he really didn't try much to change Trump's image," Sabato said. "How could he? It wouldn't have won many converts. People know Trump too well for that."
Pence had the added responsibility of making up for some of Trump's deficiencies among certain groups including female suburban swing voters, said Lawrence Levy, executive dean of the National Center for Suburban Studies at Hofstra University, which hosted the cycle's first presidential debate last month.
"Pence needed to put on his best Joe Biden mask and stop that bleeding as the vice president did for Obama after the first debate in 2012... and he didn't do a bad job of presenting himself as a steady hand with a command of the issues," Levy said.
He continued:
"But Kaine succeeded in continuing Clinton's successful line of attack by reminding these voters of the many things they haven't liked about Trump. Kaine also kept the pressure on Pence who, while rarely seeming rattled as Trump did, sometimes had a difficult time defending his standard-bearer. Overall, I call this a wash on the Crabgrass Frontier — and it's not clear whether a wash at this late stage of the campaign is enough for a ticket running behind."
Kaine methodically peppered Pence with a litany of Trump's more incendiary statements, from having called women "pigs" and "dogs" to slamming Mexican immigrants as "rapists."
Pence also took umbrage at Team Clinton's tone — arguably a brutal task as Trump's running mate.
"Ours is an insult-driven campaign? Hillary Clinton said that half of our supporters were a 'basket of deplorables,' Pence said at one point. "She said they were irredeemable, not American. It is extraordinary."
At another point, the dyed-in-the-wool conservative said he "couldn't be prouder to stand with" Trump on the issue of abortion.
Joel Goldstein, a noted expert on the vice presidency who teaches at the St. Louis University School of Law, said in an interview that "on style, Pence might've done better but in terms of the substance i think Kaine made the points that he wanted to make, [and] if there were memorable lines out of this debate, I think they were Kaine's."
But the overall effect was that under attack, rather than offering a full-throated defense of Trump on his more inflammatory statements and headline-generating problems, he said, "Pence's defense of Trump was to deny what Kaine was saying was true and then to just attack Clinton."
Understandable, since on some things, Trump's incredibly hard to defend — "but I think that was the point," Goldstein said, "that Kaine was trying to make."
Republican National Committee Chairman Reince Priebus, of course, begged to differ, saying Pence succeeded at making the case for Trump with "people who weren't sure which way to go."
"That's all we can ever hope for," Priebus said.