The highs and lows from Tim Kaine's VP debate performance against Mike Pence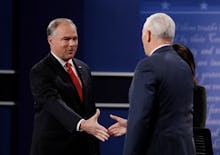 Reviews of Tim Kaine's performance in the vice presidential debate were mixed on Tuesday night. While Mike Pence consistently appeared calm, even jovial, Kaine appeared consistently antsy and interrupted the Republican vice presidential nominee frequently. 
While some criticized Kaine's interruptions, others said he effectively attacked Donald Trump and tried to keep Pence from defending the GOP presidential nominee. Immigration, terrorism, the economy and the role of government were central themes of the one-and-only vice presidential debate. 
Early in the debate, Pence was forced to defend the possibility Trump paid no taxes for 18 years. But Kaine consistently interrupted Pence, and some thought it weakened the Democrat's position.
Kaine did have quotable moments and was aggressive throughout the debate, especially on policing and race relations. He said Pence and Trump are not willing to address complex issues, like racial bias among police officers. And he attacked GOP immigration proposals that would cut down on or halt people entering the U.S.
But Kaine's interruptions undoubtedly resonated poorly with pundits — and voters.
Overall, some believed Pence edged Kaine in the debate. He undoubtedly did not land some attacks on Pence. But much of the focus of Tuesday night's debate was on Trump's negative attributes — something Kaine can be happy about. And at the end of the night, Pence vs. Kaine was not like Trump vs. Clinton.
Mic has ongoing presidential coverage. Please follow our main election hub as well as coverage of Donald Trump and Hillary Clinton.