Vice presidential debate liveblog: Kaine and Pence spar on abortion, taxes and more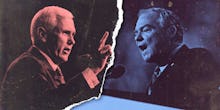 Eight days after Hillary Clinton's commanding debate performance against Donald Trump helped her regain control of the presidential race, the two candidates' running mates, Tim Kaine and Mike Pence, will square off at Longwood University in Farmville, Virginia, on Tuesday night.
While Tuesday's debate is hardly expected to be a game changer, it will nevertheless offer a glimpse at how the two men might serve their respective candidates if elected in November — and offer voters a clear look at how the two campaigns are sizing each other up.
The debate begins at 9 p.m. Eastern and runs until 10:30. You'll find the highlights of the evening's showdown below.
10:33 p.m.: The candidates sparred on abortion
As the debate turned to social issues, Pence laid into Clinton and Kaine for their stance in support of abortion rights.
"What I cannot understand is Hillary Clinton, how she can support a process like partial-birth abortion," Pence said, dinging their pair on taxpayer funding for abortion. 
Kaine said the Democratic ticket supported Roe v. Wade as the law of the land and opposed punishing women who underwent abortions, noting that Trump once expressed support for such punishment. — Luke Brinker
10:16 p.m.: Kaine calls Trump a "maniac"
When the debate turned to talk about nuclear proliferation, Kaine invoked the late Republican President Ronald Reagan.
"Ronald Reagan said something interesting about proliferation in the 1980s. He said the problem with nuclear proliferation is some maniac could trigger a catastrophic event, and I think that is who Gov. Pence's running mate is," Kaine said.
Pence was not pleased with that characterization.
"That was pretty low," Pence said.
— Emily Cahn
10:04 p.m.: Pence calls Vladimir Putin a "small and bullying leader"
While Trump and the Russian president have offered warm words for each other, Pence blasted the strongman as a "small and bullying leader" during an attack on Clinton's foreign policy record.
"Hillary Clinton's top priority when she became secretary of state was the Russian reset. After the Russian reset, the Russians invaded Ukraine and took over Crimea. The small and bullying the leader of Russia is now dictating terms to the United States to the point where all the United States of America, the greatest nation on earth, just withdraws from talk about a cease-fire," Pence said, referring to the U.S. and Russia's suspension of talks on resolving the Syrian civil war this week. — Luke Brinker
9:40 p.m.: Pence denies there's "implicit" racism in America
During a back-and-forth about race and policing in America, Pence denied that there is "implicit bias or institutional racism" in America — even in the wake of a spate of police killings of unarmed African-Americans.
"Enough of this seeking every opportunity to demean law enforcement by making accusations of implicit bias every time tragedy occurs," Pence said.
Kaine expressed shock that Pence would deny there is any bias against minorities in America.
Moderator Elaine Quijano piped in to push Pence on his claim that there was no bias against black Americans, bringing up African-American Sen. Tim Scott's past comments that he has been "targeted for nothing more than being just [himself.]"
"I have the deepest respect for Sen. Scott. He is a friend. I would say that we need to adopt criminal justice reform nationally," Pence said. 
— Emily Cahn
9:22 p.m.: Pence struggles to defend Trump over his taxes
Asked whether it was fair for Trump to minimize his personal tax burden, Pence stumbled to explain why Trump should not have to release his tax returns. It was an inevitable question but Pence nonetheless fumbled around for a response before being chastised by the moderator for not answering the question posed to him.
"Those tax returns that came out publicly this week showed that he faced pretty tough times 20 years ago," Pence said. "He used operating laws, a tax code that actually is designed to encourage entrepreneurship."
"Why won't he release his tax returns?" Kaine cut in.
Pence didn't have a response, eventually relenting and saying Trump "has filed over 100 pages of financial disclosure, which is what the law requires." 
— Stefan Becket
9:18 p.m.: Kaine deflects question about Clinton's trustworthiness with sharp attack on Trump
Kaine and Pence are off to a combative start.
Kaine, when asked about Clinton's trustworthiness, said Clinton has spent her life fighting for children and families while Pence has had to "defend the insult-driven style" of Trump.
Pence went on to deflect on answering a question about Trump's temperament, instead saying that Clinton and Kaine "would know a lot about an insult driven campaign."
— Emily Cahn
8:44 p.m.: Rest assured, Trump will be tweeting
This might be interesting after all! 
The Republican nominee will be watching and tweeting along with the rest of us from his hotel in Las Vegas:
Although not without his staff members looking over his shoulders:
— Stefan Becket