Who won the VP debate? Twitter weighs in on the Pence vs. Kaine showdown.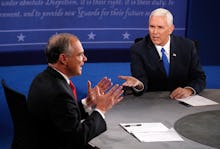 Before the vice presidential debate even started, the Republican Party declared Indiana Gov. Mike Pence the winner.
After going head-to-head for 90 minutes in the first and only vice presidential debate, Donald Trump's running mate took on Virginia Sen. Tim Kaine, Hillary Clinton's choice for VP.
Twitter seemed to agree that Pence might have won on style and composure, but Kaine managed to hold his ground on fact-checking Trump.
About an hour into the debate, Trump, who live-tweeted the entire time, declared Pence the winner.
And at the end of the matchup, Trump declared Pence the clear winner.
Trump wasn't the only one who felt that Pence fared well during the debate.
Mic has ongoing presidential coverage. Please follow our main election hub as well as coverage of Donald Trump and Hillary Clinton.