After Mike Pence's "that Mexican thing" comment, Latinos on Twitter spoke out against him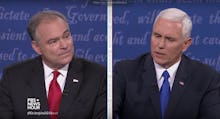 Three little words spelled one big mistake for Mike Pence. 
During Tuesday night's vice presidential debate, Virginia Sen. Tim Kaine asked Indiana governor Mike Pence to answer for some of Republican nominee Donald Trump's racist remarks against Mexicans and Mexican-Americans — specifically, his repeated assertions that Mexican immigrants are criminals and rapists.
But Pence was unwilling to comment on Trump's inflammatory rhetoric. After Kaine brought up Trump's word vomit, Pence seemed openly annoyed.
"Senator, you whipped out that Mexican thing again," he said to Kaine. "There are criminal aliens in this country, Tim, who have come into this country illegally who are perpetrating violence and taking American lives." 
Pence's quip gained immediate meme status: 
But the phrase became more than just a meme. Latinos used the hashtag #ThatMexicanThing to push back against Pence's false suggestion that undocumented immigrants — or "aliens," to use Pence's dehumanizing terminology — perpetrate crimes at a higher rate than American citizens. 
Latinos weren't the only one's in on the joke. By the debate's end, ThatMexicanThing.com redirected to Hillary Clinton's campaign website, while ThatMexicanThing.org brought users to a voting registration site owned by TurboVote.
According to MSNBC producer Kyle Griffin, the Clinton campaign says they didn't purchase the domain:
Latinos, specifically Mexican-Americans, have been a central Trump target throughout the election season. Aside from his verbal attacks on Mexican people, Trump has repeatedly proposed building a wall between the United States and Mexico (fact check: one currently exists) and has said he will force Mexico to pay for it. Mexico's former finance minister, Luis Videgaray Caso, has confirmed this will never happen.