Despite Mike Pence's record, LGBTQ rights were completely ignored at the VP debate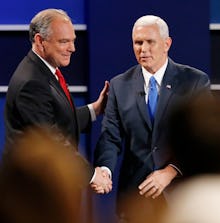 Republican vice presidential nominee Mike Pence's assault on LGBTQ rights has been one of the defining parts of his career.
Yet Pence's record on the issue did not come up once at Tuesday night's one and only VP debate — and both moderator Elaine Quijano and Democratic vice presidential nominee Tim Kaine are to blame.
Throughout his career in the private sector, Congress and most recently as governor of Indiana, Pence has been an anti-LGBTQ crusader.
He signed into law Indiana's Religious Freedom Restoration Act through the state legislature — a law that made it legal for businesses in the state to deny service to LGBTQ customers. RFRA lost the state millions in potential revenues, as major conferences moved out of the state, citing the discriminatory law.
In 2006, he said being gay was a choice that threatened to undermine society.
"Societal collapse was always brought about following an advent of the deterioration of marriage and family," Pence said at the time, according to the Congressional Record.
In 2007, he voted against the Employment Non-Discrimination Act, saying the bill "wages war on freedom of religion in the workplace."
And as head of the Indiana Policy Review in the 1990s, a conservative think tank, Pence wrote a number of anti-gay papers, according to Esquire.
"Homosexuals are not as a group able bodied," Pence wrote in one paper. "They are known to carry extremely high rates of disease brought on because of the nature of their sexual practices and the promiscuity which is a hallmark of their lifestyle."
Yet none of this came up at Tuesday night's debate.
Instead of asking about his record on the issue — which runs counter to GOP presidential nominee Donald Trump's statement that "the gays" would prefer his policies — Quijano instead lobbed a softball question to Pence about his faith.
And Kaine, whose main purpose was to bait Pence into defending Trump's past comments on minorities and women, never found a way into the attack.
The lack of discussion about Pence's record on LGBTQ rights had people up in arms on Twitter.