Kid Cudi enters rehab for depression, shares note with fans: "I've been living a lie."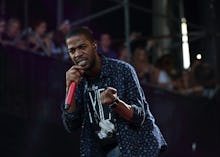 Kid Cudi has talked about his troubles at length on his records: "I've got some issues nobody can see," he rapped on his debut studio LP Man on the Moon. "I bring them to the light for you/ It's only right." But few listeners likely knew how real his difficulties were.
The rapper announced Tuesday night that he's checking himself into rehab to address his "depression and suicidal urges," as he wrote in an open letter to fans posted to Facebook.
"It's been difficult for me to find the words to what I'm about to share with you, because I feel ashamed," Cudi wrote. "Ashamed to be a leader and hero to so many while admitting I've been living a lie. It took me a while to get to this place of commitment, but it is something I have to do for myself, my family, my best friend/daughter and all of you, my fans."
The letter displays a level of openness and of vulnerability artists rarely offer their fans. Cudi essentially rewrites the script on how fans may have viewed his career, which launched back in 2008 with the stellar mixtape A Kid Named Cudi.
"My anxiety and depression have ruled my life for as long as I can remember, and I never leave the house because of it," Cudi writes. " I can't make new friends because of it. I don't trust anyone because of it, and I'm tired of being held back in my life. I deserve to have peace. I deserve to be happy and smiling. Why not me?"
Cudi's letter puts his tweets from earlier this month in a new perspective: It seems he's been advocating for others' health and happiness even while moving deeper into his own darkness. "I guess I give so much of myself to others I forgot that I need to show myself some love, too," he wrote in his Facebook letter. "I think I never really knew how."
In his Facebook post, Cudi also assured fans that his album Passion, Pain and Demon Slayin' is still on the way. It was originally due out at the end of September, but issues clearing samples forced the artist to delay the release. His manager Dennis Cummings will handle all the news while Cudi's in rehab. 
Throughout Tuesday night and Wednesday morning, artists, fans and activists began saluting Cudi and showering him with support on Twitter, with many praising the artist's honesty and bravery during such a difficult times.
As the artist says in the Vine above, all he ever wanted to do was "help kids not feel alone and stop kids from committing suicide." To this end, Tuesday's open letter is likely the boldest statement the artist has ever crafted.