Hurricane Matthew 2016 path update: landfall in Cuba as Florida prepares for the worst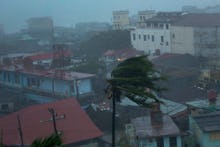 Hurricane Matthew made landfall in Cuba around 8 p.m. on Tuesday as it continued its brutal path across the Caribbean, USA Today reported.
As of 8 a.m. this morning, Matthew was 45 miles east-northeast of Cabo Lucrecia, Cuba, according to a bulletin from the National Hurricane Center. The town, on Cuba's northeastern coast, is about an 11-hour drive east of Havana. The NHC reports that the storm has sustained winds of 115 miles per hour and is now moving north-northwest at a rate of 10 miles per hour.
In addition to the ongoing hurricane warning for Haiti, the NHC has issued warnings for the Cuban provinces Guantánamo, Santiago de Cuba, Holguín, Granma and Las Tunas, southeastern Bahamas, central Bahamas, northwestern Bahamas, and a chunk of Florida's southeastern coast.
On Tuesday, Florida Gov. Rick Scott and Miami-Dade County Mayor Carlos Giménez told residents along Florida's Interstate 95 to prepare for "direct impacts" of the storm.
"We are preparing for the worst, hoping for the best and not taking any chances," Scott said.
So far, Matthew has claimed seven lives. Matthew is the strongest storm of its kind seen in the region since Hurricane Felix in 2007.