Jordan Peele's horror film 'Get Out' explores race relations to a terrifying degree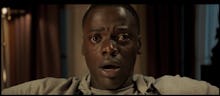 Many are likely most familiar with Jordan Peele as one half of the titular duo of Comedy Central's hilarious sketch series Key & Peele, but the comedian's first dive into the horror genre looks downright terrifying. The first trailer for Peele's film, Get Out, was released by Universal Pictures Tuesday, and delivers on Peele's promise of exploring "the fears of being a black man today." 
Get Out sets up a familiar premise: meeting the significant others' parents. But the boyfriend, Chris (Daniel Kaluuya) is initially concerned that his girlfriend Rose (Allison Williams) hasn't told her family that she's dating a black man. 
It doesn't take long for things to go south, as Chris' friend researches the town and discovers that a lot of black people have gone missing there. Later, Rose's mother attempts to use some type of hypnosis on Chris, who understandably freaks out. 
The trailer doesn't give away too much — there could be supernatural elements at play, or it could just be a particularly egregious racist community. But regardless of it's direction, Peele wants the exploration of race to stick. 
"Like comedy, horror has an ability to provoke thought and further the conversation on real social issues in a very powerful way," he told Variety in September. "Get Out takes on the task of exploring race in America, something that hasn't really been done within the genre since Night of the Living Dead 47 years ago. It's long overdue."
Watch the first trailer for Get Out — arriving to theaters in February — below.