Tim Kaine made an essential, if hypocritical, point about women and choice at VP debate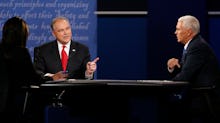 Democratic vice presidential candidate Sen. Tim Kaine (D-Va.) asked a million-dollar question 
"We can encourage people to support life, of course we can," Kaine said to Pence during Wednesday night's vice presidential debate, following a question from moderator Elaine Quijano about abortion. "Why doesn't Donald Trump trust women to make this choice for themselves?"
Although Kaine has his own complicated history of supporting anti-choice laws — like voting for the Hyde Amendment, which blocked Medicaid funding for abortion — he appears to have adjusted his position on reproductive rights after teaming up with Hillary Clinton. 
Kaine further criticized Trump for saying women should face punishment for having an abortion. 
"The answer is that there has to be some form of punishment," Trump told MSNBC's Chris Matthews during a town hall event in March. 
Pence rebutted that Trump isn't "a polished politician," and that their presidential ticket will never support legislation that would punish women for having an abortion — even though Trump explicitly said they would.
Looking at Pence's political record on the issue doesn't encourage hope, either. The Indiana governor takes pride in being staunchly pro-life and a devout Evangelical Catholic. He has sponsored or signed into law some of the most extreme anti-women legislation in the United States, many of which made abortion less accessible and even criminalized the procedure.
For example: As a Congressman, Pence co-sponsored the Ultrasound Informed Consent Act in 2008. The bill dictated that women, before undergoing an abortion, had to take an ultrasound and be told their fetus' condition.
He has also waged a long-running war to defund reproductive health care provider Planned Parenthood. During an April 2011 interview with MSNBC, Pence promised he would push for a shutdown of the U.S. government until Congress passed a bill to defund the organization. 
While serving as Governor of Indiana — and despite Planned Parenthood helping contain an HIV outbreak in an Indiana county — Pence shut down all five of its facilities in Indiana and slashed its state funding to half.
And in March, Pence signed into law one of the nation's most extreme pieces of anti-abortion legislation — House Bill 1337 — which made it illegal for women to get the procedure due to genetic disorders in the fetus, like Down's Syndrome, or for the fetus' race and gender.
The bill, according to Mother Jones, also banned fetus tissue donation and made burial or cremation services for fetuses mandatory.
Finally, with the 2011 No Taxpayer Funding for Abortion Act, which he co-sponsored, Pence allowed hospital and medical care providers to deny women abortions altogether, even if they would die without the procedures. 
The bill also altered the definition of rape by allowing only women who were victims of "forcible rape" access to the procedure, the Washington Post reported.
That Pence has spent much of his political career restricting women's reproductive choices with draconian laws lends extra wight to Kaine's question: Why, considering his record, does Pence believe he and Trump are even remotely capable of making healthy choices for women?