Once upon a time, Donald Trump sold weight loss snacks and vitamins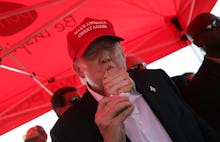 Donald Trump mocks people for being overweight, loves fast food and was a one-time weight loss supplement kingpin. 
Indeed, steaks aren't the only food Trump once hawked to the American public. The republican presidential candidate spearheaded a nutrition supplement pyramid scheme, but his business model failed spectacularly, Mother Jones reported. 
In 2009, Trump rebranded a company called Ideal Health, titling it "Trump Network," the Washington Post noted. Known as "multilevel marketing," the business venture encouraged individuals to become weight loss supplement salespeople. If these individuals couldn't sell the products to hopeful health nuts, they had to eat the cost themselves. 
Below you'll see Trump saying his company gives people "the opportunity to achieve their American dream," in a video posted in 2009. "At no time in recent history has our economy been in the state that it is today," he states earlier. "It's a mess. The economic meltdown, greed and ineptitude in the financial industry have sabotaged the dreams of millions of people." 
Trump says the business model of this product offers Americans the chance to "opt out of the recession." Odd how the video echoes his recent promises that his tax cuts will benefit American households. 
Fast forward a few years and Trump's "American dream" didn't quite hold up, for him or for the recruited Trump Network salespeople. One pair of former college professors told CBS News they lost $10,000 as salespeople. Moreover, the three owners of Trump Network — Todd Stanwood, Scott Stanwood and Lou DeCaprio — filed for bankruptcy and lost their shared home in Boston. The Trump Network was then sold to another company called Bioceutica in 2012, Washington Post noted.
The primary product of the short-lived Trump Network? A personalized multivitamin developed for each consumer after he or she submitted a urine test, Stat News reported. Called PrivaTest, the test cost roughly $140, and while the company promised personalized vitamins, it never planned to do that. In reality, there were a total of 48 formulations, according to Stat News, making it appear that each plan was customized. 
The vitamins were not approved by the Food and Drug Administration because of a law (one that's still in existence) that supplements can go onto the market as long as the product includes a disclaimer that it isn't FDA-approved, Stat reported. 
But, rest assured, Trump wasn't involved in the actual manufacturing of the dubious multivitamins. "[Trump's] role in the Trump Network was limited to licensing the 'Trump' brand and providing motivational speeches to its members," Alan Garten, a Trump attorney, said in a statement to the Washington Post. "Mr. Trump was never an owner of the Trump Network. He also was not involved in the manufacturing or sale of any of the Trump Network's products." And yet ... his name and face were everywhere. 
Trump Network also sold meal replacements and weight loss snack products under the label "Silhouette Solution," Mother Jones noted. 
"The Silhouette Solution Starter Kit is a complete eight-week program that contains everything you need ... to achieve your short and long term weight loss goals," an archived webpage from Ideal Health said. The program cost a cool $1,325, and featured products like BBQ Puffs, protein shakes, oatmeal, soups and energy bars. 
Trump's wannabe wellness empire also included a line of snacks for kids called Snazzle Snaxxs. "You can use them in place of unhealthy snacks while you start transitioning your family to a healthy diet," an archived webpage from the Trump Network states. Snacks included Snazzle Twissters Sour Cream and Onion, Snazzle Twissters BBQ Seasoned and Snazzle Puffs Cinnamon Apple — each cost $22.50 per box of snacks.  
A brochure reveals the brand also included fortified milks and bars. The images below, allegedly advertising Snazzle Snaxxs, show a slew of snazzy Snazzle products.  
"Surrounded by this relentless advertising — thousands of images every day — and with their taste buds hopelessly distorted by synthetic flavors and chemical 'fake foods,' it's little wonder that so many kids are overweight and addicted to sugary drinks and snacks," the Snazzle Snaxxs site stated. 
Trump's company condemned synthetic flavors and chemical fake foods, yet Trump recently called the FDA (you know, the bureau that makes sure food is safe and doesn't kill us) the "FDA Food Police," in a deleted statement that detailed his plan to abolish the food safety organization if elected president, Mic previously reported. 
A Trump presidency would also eliminate the Environmental Protection Agency, which guards our food supply from toxic chemicals, Food Revolution reported, explaining that dangerous pesticides could infiltrate farmlands and lead to increasing rates of cancer or birth defects. 
Needless to say, the demise of these products is certainly nothing to sniffle over: Fad diets have never helped  Americans overcome the obesity crisis.