2016 presidential poll update: Who's winning the race the morning after the VP debate?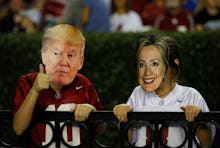 Republican vice presidential candidate Mike Pence won over viewers with his performance against his opponent Tim Kaine on Tuesday night, according to a CNN instant poll.  
Meanwhile, here's what polls of the presidential contest show.
Donald Trump has a slight lead over Hillary Clinton, according to the most recent Rasmussen Reports White House Watch survey. That poll shows Trump with 42% of support among likely voters, just one point ahead of Clinton.
But as Rasmussen points out, Clinton was ahead of Trump by one percentage point just one day before. And the day before that, she had a three-point lead after her strong performance at the first presidential debate.
Trump also leads in the latest USC Dornsife/Los Angeles Times poll, which has him at 46.5%, ahead of Clinton's 42.9% of eligible voters surveyed.
Those results are more favorable to Trump than most other national polls, however. The RealClearPolitics polling average shows Clinton leading Trump 44% to 41% in a four-way contest.
Trump and Clinton will debate for a second time on Sunday night in St. Louis, where the format will be a town hall.
FiveThirtyEight still gives Clinton the best odds to win the whole thing. The site's latest projection says she has a 75% chance of being elected president.
Mic has ongoing presidential coverage. Please follow our main election hub as well as coverage of Donald Trump and Hillary Clinton.