Rod Temperton, songwriter behind Michael Jackson's "Thriller," dead at 66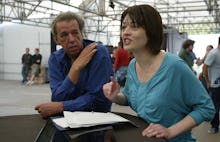 Rod Temperton, one of the most celebrated songwriters in modern pop, has died. Jon Platt, chairman and CEO of Warner/Chappell, the songwriter's publisher, shared the news Wednesday.
"Rod Temperton, British composer and musician, died last week at the age of 66 in London following a brief aggressive battle with cancer," Platt wrote. "His family is devastated and request total privacy at this, the saddest of sad times."
Platt ran off some of his achievements, noting how Temperton was often called "The Invisible Man," a nod to the low profile he was able to keep despite writing some of the most massive and popular songs in modern memory. 
The world has listened to Temperton's hits all their lives, whether people knew it or not. He was the architect behind some of Michael Jackson's greatest hits, including "Off the Wall" and "Thriller," the latter of which he was originally going to call "Starlight" before a producer asked Temperton to come up with a new title. 
"I went back to the hotel, wrote two or three hundred titles and came up with 'Midnight Man,'" he once said, describing the process of naming Jackson's most iconic hit. "The next morning I woke up and I just said this word. Something in my head just said, 'This is the title.' You could visualize it at the top of the Billboard charts. You could see the merchandising for this one word, how it jumped off the page as 'Thriller.'"
Temperton penned tracks for Aretha Franklin, Donna Summer, Quincy Jones, Herbie Hancock, Rufus and Chaka Khan, the Carpenters and the disco group Heatwave, for which he previously played keyboards. 
After writing two of the group's biggest hits — "Ain't No Half Steppin'" and "Boogie Nights" — he left to focus on his songwriting. He also dabbled in the world of film. At the 1986 Academy Awards, Temperton was nominated for best original score and best original song for his work on the Steven Spielberg-directed adaptation of The Color Purple.
Musicians from across the industry offered their condolences upon hearing the news Wednesday, including the Weeknd, Mark Ronson and De La Soul.
Listen to a collection of some of his biggest hits below, courtesy of Pitchfork.