Here's the Oct. 9 presidential debate start time, channel, moderators and more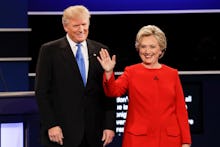 Get ready for round two. Donald Trump and Hillary Clinton will face off again, during the second nationally televised presidential debate Sunday night.
When is the second presidential debate?
The debate will take place from 9 p.m. to 10:30 p.m. Eastern at Washington University in St. Louis. 
Who is moderating the second presidential debate?
It is co-moderated by CNN's Anderson Cooper and ABC News' Martha Raddatz.
What's the second debate format?
The debate will have a different format than the first debate, where the candidates stood on stage behind podiums. This debate will be in the form of a more personal town hall meeting.
"Half of the questions will be posed directly by citizen participants and the other half will be posed by the moderator based on topics of broad public interest as reflected in social media and other sources," according to the Commission on Presidential Debates.
Candidates will have two minutes to respond and an additional minute for follow-up remarks. The participants will be made up of "uncommitted voters selected by the Gallup Organization," the commission said.
Trump has questioned the choice of Anderson Cooper, host of CNN's Anderson Cooper 360, as a debate moderator, calling him "very biased." In an interview with Cooper in summer 2015, Trump attacked him and the media in general.
"The people don't trust you and the people don't trust the media. And I understand why," Trump said, per the Wrap. He's repeatedly referred to CNN as the "Clinton News Network."
Raddatz is ABC News' chief global affairs correspondent.
Where can I watch the second presidential debate?
The debate will be aired live on all the major news networks. Facebook Live, Twitter and Snapchat will stream the debate online.
Viewers can also catch livestreams of the debate from these websites: ABC News, BuzzFeed, CBS News, CNN, C-SPAN, Daily Caller, Fox News, Hulu, Huffington Post, NBC, PBS, Politico, Telemundo, Wall Street Journal, Univision, Yahoo and YouTube.
Mic has ongoing presidential coverage. Please follow our main election hub as well as coverage of Donald Trump and Hillary Clinton.