Hurricane Matthew Florida 2016: Here's what areas and cities are being evacuated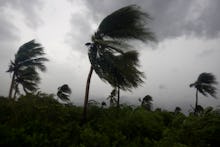 Florida is bracing itself for Hurricane Matthew.
On Monday Tuesday, the storm made landfall in Hispañola, with Cuba, Haiti and the Bahamas weathering its devastating impact. 
As the hurricane hurtles toward the coast of the United States, here are the latest predictions on its potential damage.
Hurricane Matthew's projected path 
On Wednesday morning, predictions from the Weather Channel indicated Matthew is currently expected to make landfall in Miami early Friday morning. From there, the storm will barrel along the eastern coasts of Georgia, South Carolina and North Carolina before curving sharply into the Atlantic Ocean.
The forecasting service also predicted the southeast coast of the U.S. is likely to experience "significant impacts," from the storm, which is currently listed as a Category 3 hurricane.
Where evacuations in Florida have been issued 
More than 1.5 million Floridians live in the zones currently under evacuation orders by the state, which currently include areas in Brevard County, Broward County, Clay County, DeSoto County, Duval County, Flagler County, Indian River County, Martin County, Miami-Dade County, Nassau County, Palm Beach County, Johns County, Lucie County and Volusia County, according to the state's disaster response website.
On Wednesday, CNN reported that the state's first mandatory evacuation orders had been issued in Brevard County for residents of barrier islands.
By Thursday, Florida Gov. Rick Scott had ordered additional evacuations, pleading with state residents to take the storm seriously.
"Do not surf. Do not go on the beach. This will kill you," he said in a press conference Thursday. "There is no reason not to leave."
Where is Hurricane Matthew now?
As of 12 p.m. on Thursday, the storm was hovering about 45 miles west-northwest of Nassau, Bahamas, according to Accuweather's storm tracker.
The hurricane is expected to make landfall in the U.S. early Friday morning.
Oct. 6, 2016, 1:06 p.m.: This story has been updated.