'Pokémon Go' cheat: App that let players catch Pokémon without moving could return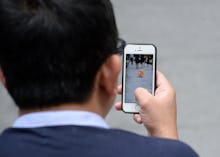 A third-party Pokémon Go app allowing users to walk throughout the game without physically moving surfaced on Apple's App Store last week, according to sources. 
The app, called PokéGOD, claimed to work without jailbreaking iPhones and included "auto-catch" and unlimited PokéStop spinning features, as well. A demo video detailing the app experience is below:
The video is listed under Anobot LLC, which supposedly created the PokéGOD app. The video's caption reads: "!!!!! Temporarily removed from the app store. Please check in again in a few days, it'll be back up soon. :) !!!!!!" 
It's unclear how the app, which was listed for $1.99, made it into the App Store in the first place. There are no reports of PokéGOD surfacing on Android's Google Play Store, either. 
Numerous third-party apps have been created (and since deleted) to assist players with Pokémon Go. However, PokéGOD attracted significant attention by successfully entering Apple's App Store, which is not necessarily easy to do — especially for a program designed to cheat. 
If Anobot LLC is actually successful in its attempt to reenter the App Store, Mic will keep you updated.