Hillary Clinton vs. Donald Trump debate 2016 live: Here's where to watch the debate online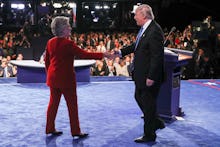 The first presidential debate of the 2016 election was the most watched in American history. 
According to Nielsen, an estimated 84 million television viewers tuned in to the Sept. 26 debate between Hillary Clinton and Donald Trump. Their second face-off is highly anticipated.
When is the debate, and where can I watch it?
The second matchup between the two candidates is set for Sunday night at Washington University in St. Louis. The 90-minute debate starts at 9:00 p.m. Eastern. It will be co-moderated by CNN's Anderson Cooper and ABC News' Martha Raddatz.
The debate be broadcast live on all the major news networks. Facebook Live, Twitter and Snapchat will also stream the debate online.
Several news outlets will also livestream the debate online, including ABC News, BuzzFeed, CBS News, CNN, C-SPAN, the Daily Caller, Fox News, Huffington Post, NBC, PBS, Politico, Telemundo, the Wall Street Journal, Univision and Yahoo.
Basic information about the Oct. 9 debate
The highly anticipated second debate will be vastly different than the first, where the two candidates stood on stage behind a podium. This debate will be in the format of a town-hall meeting.
Half of the questions will be asked by audience members and the other half will be asked by the moderators "based on topics of broad public interest as reflected in social media and other sources," according to the Commission on Presidential Debates.
The Open Debate Coalition, created in 2008 to encourage more voter participation in the presidential debates, is soliciting questions from the public at www.presidentialopenquestions.com.
The top questions so far are about gun control, social security, enacting term limits for Supreme Court justices, Citizens United and health care.
Mic has ongoing presidential coverage. Please follow our main election hub as well as coverage of Donald Trump and Hillary Clinton.