Baltimore Orioles Adam Jones and Hyun Soo Kim attacked with racial slurs and a can of beer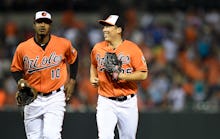 There's no crying in baseball — but there's definitely racism. 
Baltimore Orioles' center fielder Adam Jones, who is black, told reporters that he and his teammate Hyun Soo Kim, who is South Korean, were attacked with racial slurs after a fan threw a full can of beer at Kim during Tuesday's game against the Toronto Blue Jays at Rogers Centre, the Globe and Mail reported.
"That is about as pathetic as it gets," Jones told reporters after the game in Toronto. "You don't do that [throw a can of beer]. Yell, cuss or scream." 
Fans did yell — but they were also shouting racial epithets. One fan in the audience wrote on Twitter people around him were shouting for Kim to "go back to [his] country." 
"Something like that should never happen. It's the first time for me and hopefully the last," Kim said, according to USA Today.
This isn't the first time Jones has witnessed racism in the field. In August 2013, according to ESPN, he tweeted that a fan hurled a banana at him.
He claims to have become largely numb to the racial slurs thrown at him.
"I've heard that so much playing baseball,'' Jones told reporters. "I don't really care anymore. Call me what you want. I get it. That's fine.''