Hurricane Matthew Miami 2016: the latest forecast and what residents need to know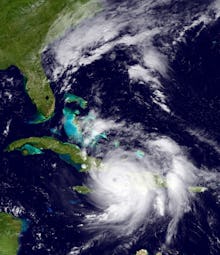 Hurricane Matthew is currently barreling toward southeastern Florida, and the latest predictions suggest it may become a Category 4 storm again by the time it nears the state late Wednesday night or Thursday, according to ABC News, with winds as strong as 130 miles per hour.
Will Hurricane Matthew hit Miami? 
According to an advisory released on Wednesday by the U.S. National Hurricane Center in Miami, "Matthew will be moving across the Bahamas through Thursday, and is expected to be very near the east coast of Florida by Thursday evening." 
So far, it's not clear whether the storm will make landfall in Florida, the Washington Post reported, but even if Matthew doesn't directly hit the state, many parts of southeastern Florida will likely feel its effects, from high winds to heavy rain. A tropical storm warning is in effect in Miami-Dade County, according to an alert from the National Weather Service.
What's the forecast for Miami? 
According to the National Weather Service, Miami-Dade residents can expect tropical storm conditions starting Thursday and possibly lasting into Friday, with rain, thunderstorms and winds between 30 and 40 miles per hour.
What Miami residents need to know ahead of Hurricane Matthew
Carlos Giménez, Mayor of Miami-Dade County, has declared a state of emergency for the area, according to local ABC affiliate WPLG. As of 11:00 a.m. Eastern on Wednesday, he had not issued any evacuation orders. According to WPLG, the mayor says there is no order to boil water, meaning the water is safe to drink until further notice. Bridges will close at 8 p.m. 
According to WPLG, mass transit in the city will run until winds reach 39 miles per hour and "Miami International Airport will remain open until the Federal Aviation Administration determines that it is unsafe."
A hurricane preparedness guide released by Miami-Dade County urges residents to take precautions in the event of a hurricane — including readying disaster kits and emergency supplies before a storm, installing storm shutters and bringing in outdoor furniture. During a hurricane, residents should stay indoors, keep pets in carriers and keep a radio on hand for emergency updates. If the power goes out, use flashlights instead of candles and turn off major appliances.
In the event of an evacuation order, residents should bring bedding, cash, any necessary medications or personal hygiene items, drinking water, snacks and extra clothing. 
According to the guide released by Miami-Dade County, official evacuation centers should be "a last resort," and residents are encouraged to stay with family and friends in non-evacuation areas whenever possible.