'Luke Cage' soundtrack: Here's every song from the show, broken down by episode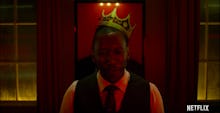 As promised, Netflix's latest original series Luke Cage delivered a "Wu Tang-ification of the Marvel universe," per showrunner Cheo Hodari Coker. The series — a love letter to Harlem's culture — captures the city's essence not just in setting, but through a hip-hop-infused score that's drawn praise from the show's fans and critics alike. 
The score was created by Adrian Younge and A Tribe Called Quest's Ali Shaheed Muhammad, to accompany the show's 13 episodes — each of which is named for a Gang Starr song. The combo of retro hits alongside new music from Younge and Wu-Tang Clan's Method Man is a welcome change for Marvel, considering its previous works have been (justifiably) criticized for their soulless soundtracks. 
While Marvel has yet to make a Luke Cage soundtrack available — hopefully that'll materialize in the near future — the songs from each episode can still be heard online through several music streaming services. Moreover, Marvel has made a Luke Cage-themed playlist available on Spotify — which you can parse through here: 
Check out the episode-by-episode breakdown of each song from Luke Cage below — as first compiled by what-song.com.
Episode one: "The Moment of Truth"
Ernie Vincent and the Top Notes, "Dap Walk" 
21, "Missionary" 
Raphael Saadiq, "Good Man" 
Raphael Saadiq, "Angel" 
Ghostface Killah and Adrian Younge, "The Sure Shot, Pts. 1 & 2 (Instrumental)" 
Coleman Hawkins, "Think Deep" 
Episode two: "Code of the Streets"
Miles Davis, "Doxy" 
Faith Evans, "Mesmerized" 
Donald Byrd, "Cristo Redentor" 
Episode three: "Who's Gonna Take the Weight?"
Charles Bradley, "Ain't It a Sin" 
Ghostface Killah and Adrian Younge, "Enemies All Around Me (Feat. William Hart)" 
Wu-Tang Clan, "Bring Da Ruckus" 
Episode four: "Step in the Arena"
Adrian Younge and Ali Shaheed Muhammad, "Feel Alive (Feat. Karolina and Loren Oden) 
Episode five: "Just to Get a Rep" 
Jidenna, "Long Live the Chief" 
The Avener and John Lee Hoker, "It Serves You Right to Suffer" 
Lee Williams and The Cymbals, "It's Everything About You" 
Mahalia Jackson, "Trouble of the World" 
Episode six: "Suckas Need Bodyguards"
The Stylistics, "People Make the World Go Round" 
Episode seven: "Manifest"
Nina Simone, "Plain Gold Ring" 
Nathan Bartell, "Top Going Down, Bottom Going Up" 
John Lee Hooker, "I'm Bad Like Jesse James" 
Adrian Younge, "April Sonata" 
Episode eight: "Blowin' Up the Spot"
Ghostface Killah and Adrian Younge, "King of New York (Feat. Raekwon)" 
Episode nine: "DWYCK"
The Delfonics and Adrian Younge, "Stop and Look (And You Have Found Love)" 
Episode 10: "Take It Personal"
No songs noted in the episode by what-song.com.
Episode 11: "Now You're Mine"
Dusty Springfield, "Son of a Preacher Man" 
Episode 12: "Soliloquy of Chaos"
Adrian Younge and Ali Shaheed Muhammad, "Bulletproof Love (Feat. Method Man)" 
Ghostface Killah and Adrian Younge, "Blood on the Cobblestones (Feat. U-God, Inspectah Deck and Mark Luv)" 
Episode 13: "You Know My Steez"
Gang Starr, "You Know My Steez" 
Sharon Jones and The Dap-Kings, "100 Days, 100 Nights"