Hurricane Matthew: Airport closures and flight cancellations ahead of Florida landfall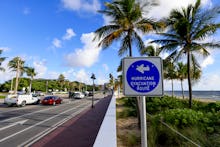 Hurricane Matthew hit Cuba on Tuesday, delivering on what NBC News meteorologist Domenica Davis said could shape up to be a "devastating blow" for the Caribbean. As Cuban provinces like Guantánamo, Santiago de Cuba, Holguín, Granma and Las Tunas batten down the hatches as Hurricane Matthew travels north-northwest, Florida, too, is bracing itself for brutal wind and rain.
By Thursday evening, the hurricane is "expected to be very near the east coast of Florida," according to a Tuesday bulletin from the U.S. National Hurricane Center.
"We still have the core [staying] off the Florida coast," National Hurricane Center spokesman Dennis Feltgen told USA Today. "But our present track does bring the possibility of hurricane force winds to Florida."
All of this to say — sorry if you had any Sunshine State travel plans.
Airport closures ahead of Hurricane Matthew
On Thursday, officials announced Fort Lauderdale-Hollywood International airport would shut down effective 10:30 a.m. The Orlando Sanford International Airport is also slated to cease domestic commercial flights starting at 10 a.m., with international commercial flights coming to a halt at 6:30 p.m.
But with all of Florida in state of emergency and with meteorologists predicting the storm will make landfall along the state's coast, travelers should monitor other Florida airports like Miami International Airport and Daytona Beach International Airport for closures as well.
How to check flight cancellations and delays caused by Hurricane Matthew
According to the Sun-Sentinel, Miami International Airport reported 13 arrivals and 11 departures cancelled as of Tuesday. Meanwhile, the Fort Lauderdale airport recommended travelers check with individual airlines for cancellations and delays. 
Few airports have preemptively announced flight changes, but major airlines have already put some safeties in place to make it as easy as possible for passengers to rebook flights. Fox News reported that American Airlines is allowing travelers to change their trips with no charge. Delta Airlines will allow passengers experiencing delays of more than 90 minutes to pull the plug and cancel the flight with a full refund. 
JetBlue will also waive cancellation fees or refund cancelled flights, while Southwest — which reported disrupted service to Montego Bay, Jamaica and Nassau, Bahamas — will allow customers to rebook flights within two weeks with no fee attached. 
And to get the speediest updates — and even recommendations for where to eat during layovers or delays — these flight tracker apps are worth a try.
What do I do if my flight has been canceled?
First off — take a deep breath. 
Since it's likely the airline you're traveling with has already planned for every worst-case scenario, know that you'll probably be able to rebook your flight or receive a full refund for it. 
It's worth noting you'll probably be one of hundreds of people trying desperately to get to your destination, so be patient. And if all else fails, tweet your grievances at the airline — it's basically an art form. 
Oct. 6, 2016, 8:43 a.m. Eastern: This story has been updated.