Jesse Watters' extremely racist Fox News Chinatown segment is enraging Twitter users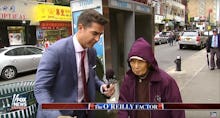 It's nearly impossible to sit through Jesse Watters' latest Fox News segment without cringing, at least once, at its flagrant racism.
Watters, a street prankster who often appears on Bill O'Reilly's "The O'Reilly Factor" on Fox News, walked through New York City's Chinatown to get insight, purportedly, on what Chinese-Americans think about Donald Trump and the 2016 presidential election.
The segment aired Tuesday night, and features hackneyed gong music in the background and vintage East Asian-themed movies spliced between its interviews. Overall, it was nearly five minutes of offensive racial stereotypes and unoriginal juvenility.
You can watch the full segment here:
In the piece, Watters mocks several men and women when they can't speak English or don't have perfect pronunciation when he asks them questions. At one point, he booty-bumps two women and then splices in a clip of the caricatured Japanese twins from Austin Powers: Goldmember.
He then accuses a watch vendor of selling stolen goods and visits nail salons while speaking to workers in a derogatory manner. Then, Watters asks men in the streets if they know Karate — a Japanese martial art — and then urges them to perform moves on camera.
Many Twitter users were indignant when they caught wind of the segment:
Even O'Reilly noted how far out Watters had gone with the racial stereotypes, and pointed out how some viewers might be offended by the segment. Watters just laughed it off, saying it was "all in good fun."
We shouldn't feel bad if we wished some of those karate kicks landed a little bit harder, right?