Second presidential debate drinking game 2016: Here are the rules and keywords to wait for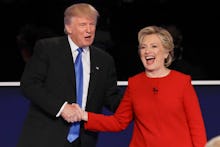 You've already suffered through the first presidential debate and maybe made it through the hour and a half of two men shouting over each other in what appeared to be our nation's only vice presidential debate. 
As Hillary Clinton and Donald Trump face off yet again, on Sunday, Oct. 9, in a town hall style debate co-moderated by ABC's Martha Raddatz and CNN's Anderson Cooper, be prepared to drink yourself into political numbness as the two improvise what will surely be Saturday Night Live's best sketch of next weekend. 
Presidential debate drinking game rules
Stock your fridge with beer, wine, canned cocktails ... whatever you like! When the following statements, references or events occur, drink! Take a sip, chug whatever's left in your glass, you know what's necessary to get through the next 90 minutes.
Presidential drinking game keywords and moments to look for
— A candidate sniffles (alternatively, when a candidate's mic malfunctions)
— A candidate shimmies (reference below)
— A candidate references the popular television series and future inspiration for the American justice system, Law and Order
— Anyone is interrupted 
— Someone says the number 33,000
— Someone mentions a wall 
— Someone fake laughs to ease the tension
— CYBER
— Tax returns
— Someone forgets the letters in LGBT 
— You take out your credit card to donate to your candidate's campaign 
— You find yourself wondering what this would look like if Bernie Sanders and Ted Cruz were up there
— You're hoping one of the above happens so you can drink and ease your pain
— You find yourself Googling immigration policies to other countries
— You book a flight to Canada for Nov. 8
Keep drinking until Nov. 8, get out and vote and hopefully it will all be okay. 
Mic has ongoing presidential coverage. Please follow our main election hub as well as coverage of Donald Trump and Hillary Clinton.