McDonald's may have turned a blind eye to persistent sexual harassment complaints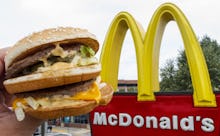 McDonald's may have turned a blind eye to sexual harassment allegations made by employees at franchises nationwide. 
According to the Huffington Post, the past month has seen 15 different complaints filed with the Equal Employment Opportunity Commission across eight states — California, Florida, Illinois, Michigan, Missouri, New York, North Carolina and Wisconsin. The allegations point to a pattern of indifference from the fast food chain toward employee reports of sexual harassment.
The employees' complaints detail separate but similar instances of inappropriate workplace behavior: coworkers and supervisors groping, grabbing and aggressively touching  them; showing them sexually charged photos; asking personal questions about sexual preferences and practices. 
Kristi Maisenbach, for example, alleged that her manager at a Folsom, California, McDonald's "grabbed [her] breasts on several occasions and would intentionally rub his genitals against [her] butt" when she worked there, according to the Guardian. He also once propositioned her over text, saying he would pay her $1,000 if she would give him oral sex.
Maisenbach's experience is apparently not atypical — a national survey published Wednesday found that two in five female fast food workers have faced sexual harassment at work. In 2015, the EEOC fielded 6,822 sexual harassment complaints, only 17% of which came from males. But as a Facebook video posted Wednesday by workers' rights group Fight for $15 demonstrates, the situation at McDonald's is particularly bad — for women and for men.
In the video, former and current McDonald's employees recount stories of sexual harassment, including having their genitals grabbed on the job and fielding questions about their sex lives. Some of the employees say they told their general managers what was going on; others even contacted McDonald's corporate office. Some stayed quiet, fearing retaliation — and indeed, according to the Huffington Post, many of those who did report sexual harassment were either told it was their own fault, or watched their complaints go ignored. 
In an emailed statement, McDonald's spokesperson Terri Hickey said the company does not tolerate the kind of behavior outlined in the complaints and is investigating.
"At McDonald's, we and our independent owner-operators share a deep commitment to the respectful treatment of everyone," Hickey said. "There is no place for harassment and discrimination of any kind in McDonald's restaurants or in any workplace. We take any concerns seriously and are reviewing the allegations."
Hickey also noted that most McDonald's franchises are independently owned, a fact confirmed by the company's website which states that "more than 80% of McDonald's restaurants worldwide are owned and operated by independent local business men and women." As the Huffington Post reported, independent ownership has long enabled McDonald's to distance itself from unfair labor practices in its individual restaurants. 
McDonald's and the National Labor Review Board went to court in March to decide whether or not the corporation should be considered a "joint employer" with its franchises, responsible for mistreatment of its workers. The lawsuit contained myriad complaints filed by employers who alleged that they were "threatened, surveilled, disciplined and fired" for taking part in protests for higher pay, according to Reuters. 
The Guardian reported that workers at McDonald's restaurants in 30 U.S. cities will speak out against pervasive sexual harassment in protests on Thursday. Participants want McDonald's to enforce the zero-tolerance stance it purports to take against sexual harassment. 
"I believed McDonald's had my back and would be horrified by the way I was treated," Cycei Monae, a former McDonald's employee and an EEOC complainant, told the Guardian. "I was wrong."