"We're screwed either way": In pivotal Virginia, Trump vs. Clinton is no ordinary contest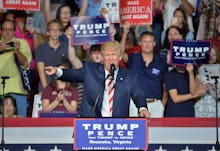 SOUTH HILL, Va. — Lizzy Nash is a born-and-raised Republican, but she still thinks Bill Clinton was a fine president.
"I thought he did a good job — I mean, decent," said Nash, 28, a cheerful mom of three who works at Kahill's, a cozy local bar a half-hour's drive from the North Carolina border.
But Hillary Clinton?
No way, no how.
"I have three girls, and I would love for them to have a female role model — but not a crook," Nash said.
That's partly why Nash says she's voting for Donald Trump, although she admits it's "for lack of a better option."
"I think we're screwed either way," she lamented.
Recent polling in Virginia shows Clinton leading Trump by seven percentage points on average in polls featuring third-party candidates. But Clinton registers only about 44% support — underscoring that while Trump has an uphill battle here, voters aren't exactly enamored of her, either.
The dynamics: The bulk of Clinton's support is in the Washington, D.C., suburbs, not in places like South Hill, where "For Rent" signs on storefronts aren't a rarity and is representative of the places where Trump hopes to cut into Clinton's advantage.
South Hill recalibrated its economy following the limitation of federal subsidies for tobacco farming, of which South Hill was once a top recipient.
In 2012, voters here in Mecklenburg County chose Republican challenger Mitt Romney over President Barack Obama by a 53% to 46% margin.
Sentiment is similarly split this year. The Mecklenburg Reporter noted in September that "supporters in Mecklenburg and Brunswick counties are outraged as the 'pandemic' of Donald Trump for President political sign vandalisms continues."
Rick Cousins, a corrections officer who takes plenty of ribbing from his fellow Kahill's patrons for his allegiance to Clinton, laughs off their attitudes.
"All these people that are saying, 'Lock her up,' you might want to be careful — Trump being one of them," he said. "Come November, she's going to be the one deciding who we should lock up — 'cause to the victor goes the spoils."
Cousins, 46, may be literally and figuratively in the minority.
His ancestry is a mix of black, white and Native American, he said. At the last census, South Hill, a town of fewer than 5,000, was approximately 56% white and 39% black, with just a smattering of Asians and Latinos.
Why is Cousins voting Clinton?
"Performance," Cousins said. "I look at it like this: Team Clinton, what they did in the '90s. You take any measure — I don't care what you want to pick, stock market performance, GDP growth, unemployment — nobody has better number than Clinton. It's all about results. I've heard many people talk shit, I say, 'Look, I can categorize everything you say in one word: Excuses.'"
At the same time, Cousins considers himself far from hyperpartisan, identifying as an admirer of Ronald Reagan and saying he once cast a vote for George W. Bush.
"People voted back then for the person rather than the party; you don't see that no more," he said. "Most people are voting for the party. ... The whites are solid Republican."
How Virginia will be won: As Clinton looks to hang onto her lead in the state — and offset potential losses in struggling places like South Hill — millennials and other ascendant demographic groups, including unaffiliated voters and minorities, may prove pivotal, a similar dynamic to the national state of play.
A poll released after Clinton's Sept. 26 debate with Trump showed her leading 42% to 35%, powered in large part by growing support with younger voters and independents.
Still, the poll found Trump running strong in economically distressed southwest Virginia, and the GOP nominee can count on the enthusiastic support of voters like George Bower, a driver who cruises South Hill's byways in a white cab plastered with political stickers, including a huge "All Aboard the Trump Train" decal on his rear window.
"She's got blood on her hands; her and Bill is crooked as hell," Bower said of Hillary Clinton and her husband. "They've had so many scandals over the years, it's ridiculous."
Bower hopes Trump can restore the jobs this area lost in manufacturing and coal, saying they've been bled away by cheap overseas labor.
Reports that Trump may not have paid federal taxes for nearly two decades, don't bother Bower, 51, who serves an area where the median annual income in 2014 fell below $42,000.
Bower, whose cab company is pretty much the only game in town, says most people he speaks with support Trump.
"They're just sick and tired of Hillary telling a bunch of lies — and that Clinton Foundation [is] just as crooked as all get-out," the Manassas transplant said. "I wish I could come give a speech for $500,000."
Small a town as this may be, Bower says a cab driver of 31 years meets a ton of interesting people.
"If I could write a book, I could tell a big story," he says.
The story of how the election plays out in Virginia will be told in 32 days.