PlayStation VR reviews: Experts are impressed but not obsessed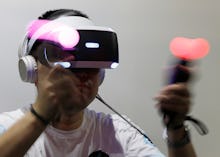 The first reviews of the highly anticipated PlayStation VR have begun to trickle in. The virtual reality system, which arrives on Oct. 13, is fully functional with the PlayStation 4 and boasts a relatively affordable price at $399.99 (though it can get pricier with add-ons). This cost, along with the already popular PlayStation brand, could move virtual reality gaming into the mainstream. But for that to happen, the PlayStation VR has to be good — so is it? Here's what the critics are saying:
PlayStation VR review: More comfortable but less impressive than others
Adi Robertson of the Verge praised the PlayStation VR's accessibility, saying that "the setup is nearly impossible to screw up." He also found the accompanying headset to be quite comfortable, writing, "its weight is distributed much more evenly than other headsets, so it's not constantly pushing down on your forehead and cheekbones." The PlayStation VR does have some drawbacks, though, according to Robertson. "Its limited camera setup doesn't lend itself to the impressive physical worldbuilding that I've seen in HTC Vive games, and Sony isn't as visibly committed as Oculus to pushing bold, difficult VR-only projects." Even so, the PlayStation VR earns a solid 8.5 on the review. 
PlayStation VR review: Easy to use but not that exciting
Kotaku shares a similar good-but-not-great tone in its review. "PlayStation VR is inferior to the competition in several significant ways," Kirk Hamilton writes. "It's also less expensive and easier to use, and for all its flaws it still manages to communicate the goofy, surreal joy of modern virtual reality." Hamilton argues that the games need improvement, though. "Some of the games are neat, but so far most aren't that exciting."
PlayStation VR review: Intuitive but not perfect
Wired is mostly in favor of the PlayStation VR, giving it an 8 out of 10 and defending its hardware's inferiority to the HTC Vive and Oculus Rift. "What matters is that this thing works in your living room," Peter Rubin writes. "What matters is that it's comfortable, immersive, and intuitive." His review did criticize the PlayStation VR's goggle design, unlike most other write-ups. "Rubber flaps that extend from the eyebox to the cheeks and nose are meant to prevent light leakage, but don't come close to blacking out the outside world."
Overall, the PlayStation VR has left critics pretty satisfied, but craving for a little more. It's a solid first entry from Sony, though, and could be a major turning point for the future of virtual reality entertainment.