What do Canadians eat for Thanksgiving? Here are recipes good enough for Justin Trudeau.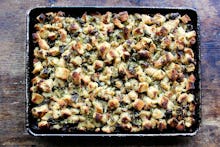 As the New York Times' Pete Wells so kindly reminded us this week, Canadian Thanksgiving is upon us. 
The oft-ignored holiday by North American food publications and Americans in general has been celebrated in Canada since the 1750s. Canada's Thanksgiving Day was officially proclaimed by Parliament in 1879 as "a day of General Thanksgiving to Almighty God for the bountiful harvest with which Canada has been blessed," according to The Canadian Encyclopedia, and later became a national rather than a religious celebration to fall on the second Monday of October. 
This year, it falls on Oct. 10, which is Columbus Day (or Indigenous Peoples' Day, depending where you live) in the United States, which means a feast for all! While turkey poutine and maple syrup-drenched stuffing aren't typically on the menu (but hey — you can improvise), here's what Canadians typically eat on their day of thanks. You're welcome. 
Turkey 
Food writer Amy Rosen filled us in on a little clue: "We literally eat exactly what you eat, turkey and all," she said in an email. "The only difference is we're watching baseball during our Thanksgiving instead of football. Go Jays!" Or go Cubs, whatever. 
But no matter where you may be, why not tune into Monday night's game with a turkey leg in hand? You can pretend it's a baseball bat, if that's your thing. If you're not up for roasting a whole turkey, try this turkey leg recipe for easy autumnal poultry bliss. 
Turkey dressing
Every turkey needs a nice outfit. Valerie Lugonja reveals on her blog A Canadian Foodie that what most Americans call "stuffing" is actually called "dressing" up north. Fancy! If you're not into dressing, or stuffing, a whole turkey, try this sheet pan stuffing with pancetta and brussels sprouts. 
Squash
"The centerpiece of Thanksgiving dinner in Canada is, frequently, roast turkey with stuffing and gravy," Wells wrote, confirming that the Thanksgiving fare up north isn't totally different from its American counterpart. "Side dishes are made with fall vegetables like sweet potatoes and squash."  Sounds familiar, no? Try this maple-glazed delicata squash with brussels sprouts recipe, because you know it's not a Canadian Thanksgiving without some maple syrup. 
Pumpkin pie 
"Dessert will be pie. Everybody's favorite is pumpkin," Wells wrote. And so it is. Try this great pumpkin pie recipe to kick off your celebration of the season.  
Booze
"THE drink for Canadians during the holidays and on Thanksgiving is shots of Caribou," French-Canadian Bertil Jean-Chronberg, sommelier, partner and wine director at Boston's The Beehive and Beat Brasserie said in an email. Jean-Chronberg continued:
"Caribou is sweet alcoholic beverage made with red wine, hard liquor and maple syrup or sugar. We always use gin and vodka in my family, but every household has their own recipe. It was traditionally used to keep warm during hunting season and when you were outside in the cold, but it has evolved into a holiday tradition in Canada. During the dinner itself, most Canadians prefer to drink real hard cider with their dinner, before they move to wine. As for beers, the go-tos are Labatt Blue and Molson."   
Cheers!