CNN unearths two more 'Playboy' videos featuring Donald Trump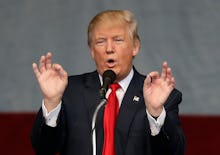 CNN reported Wednesday that two more Playboy videos featuring Donald Trump cameos had been unearthed — marking yet another revelation that could further diminish the Republican candidate's standing with women voters.
The newly discovered video brings the total number of known Trump appearances in softcore pornography to three.
In one of the resurfaced videos, titled Playboy Centerfold, Trump is seen interviewing and taking Polaroid photos of fully dressed models.
The video was part of the magazine's search for a playmate in 1994 — Playboy's 40th anniversary.
In a 2001 video, Trump is seen at a Playboy fashion show with Melania Knauss, who at the time was his girlfriend.
Both videos depict fully nude women, though Trump is not present in those scenes.
BuzzFeed News reported on a third video last week, in which Trump is seen breaking a bottle of champagne and pouring it over a limo in a 2001 Playboy film.
The revelations of Trump's past appearances in softcore pornography came after Trump attacked former Miss Universe winner Alicia Machado.
Trump said she was the "worst" Miss Universe because she "gained a massive amount of weight."
And after Machado came out to publicly endorse Hillary Clinton, Trump went on to slut shame Machado, calling her "disgusting" and telling his Twitter followers to "check out" Machado's sex tape (which doesn't exist).
The incident has not endeared Trump to women voters, who polls indicate still back Clinton by a wide margin.