Lady Gaga 'Joanne' Livestream: Artist premieres "Million Reasons" in a Nashville dive bar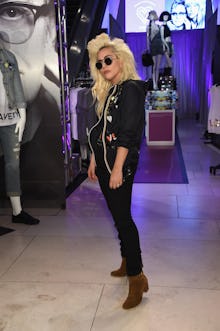 Lady Gaga's musical career was born in a New York dive bar, and Wednesday night, it was reborn in a Nashville one. The mother monster gave fans the first live taste of her upcoming Joanne, at the first stop of a three-date Dive Bar tour in Nashville, livestreamed on Bud Light's Facebook page.
Wearing a cowboy hat and leather jacket, Gaga insisted fans call her "Joanne," the name of her late aunt and the name of her sixth studio album. She debuted three new songs, opening with "Sinner's Prayer" and "A-Yo" before playing the upcoming album's second single "Million Reasons," which the artist released later in the evening for streaming and download. 
The song offers a different side of Gaga than fans usually see — it's stripped-down, acoustic, Christian rock-inspired, less Madonna and a lot more Johnny Cash. But it fit the venue well, and served as a major sign of what fans should expect from the new album: Gaga is going full rawhide, light-beer-drinking Americana on us.
Gaga hasn't revealed much about Joanne, save for its collaborators — many out of the rock world, including Father John Misty, Beck and Florence and the Machine — and that she's aiming for a "raw Americana" vibe. In an interview with Yahoo Music, published Sunday, she described it as "a return to my roots in a very strong way." 
The dive bar set also felt like a return in itself. Stefani Joanne Angelina Germanotta got her start as Lady Gaga in the New York bar and club scene when she was around 19 years old.
"That's when I really decided I was going to hit the ground hard — hit the [New York] dive bar scene and the club scene hard with my music and playing out as a songwriter," she told Yahoo, explaining 19 was the same age her aunt Joanne was when she died of lupus. 
"It was really Joanne, and that story of our family, and the toughness that made us who we are, that gave me the strength to go," she said. "'You know, I'm going to live the rest of my life in a way that she couldn't.'"
The song "Million Reasons" is a similar show of strength. The singer shared the lyrics earlier Wednesday on Twitter, so fans could "sing along." They portray a proud Gaga threatening a hanger-on, saying she's got "a million reasons to let you go" but needs only just "one good one to stay."
After the show, the artist gushed on Twitter, thanking fans for tuning in to her performance she's "been waiting so long" to deliver.
Gaga's Dive Bar tour will continue for two more stops, Oct. 20 and 27, in two undisclosed locations, and Joanne drops Oct. 21. Fans should be prepared for more head-banging and heel-stomping from the queen whose "Disco Stick" days seem so far away. 
Listen to the studio version of "Million Reasons" below.
Oct. 6, 2016, 10:22 a.m. Eastern: This article has been updated.