'American Horror Story' season 6, chapter 4 recap: Cricket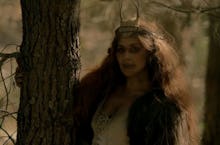 Wednesday's episode, the fourth of American Horror Story: Roanoke, begins with Shelby reeling from the sight of Matt having sex with a woman in the woods. As she yells at him later, all he can say is "I don't remember." He pleads for Shelby to forgive him, and she does so. She realizes that Matt was under a hex and that he wasn't "culpable" for his actions.
Later, as Shelby is heading to the bathroom for a shower, a man wearing a pig mask begins to chase her. She screams for Matt and runs away but the pig man is relentless in his pursuit. He picks up a weapon and is about to kill them both when Elias (the man from the videos) appears with an axe and puts an end to the pig man by chanting the word: "Croatoan."
Elias begins to drop some serious wisdom on Shelby and Matt, who don't really seem to mind that random strangers casually walk into their home. He says that Croatoan was "a word of dark power and blood magic" back in the day. Matt and Shelby are initially skeptical, but continue to let Elias explain the history of their home. 
Elias says that the previous inhabitants endured the siege of deadly spirits according to the lunar cycle around the end of October called the "dying grass moon." Elias tells them to leave, but they insist on finding Flora first. Elias says that if the Butcher captured Flora, she's most certainly dead already. Matt informs Elias that the Butcher doesn't have Flora, Priscilla does. To their relief, Elias knows where Priscilla likes to play and he leads the couple to it.  
Shelby, Matt and Elias end up in the woods again on the hunt for Flora. Shelby sees the demonic witch (played by Lady Gaga) who was getting freaky with her husband and begins to run after her. Gaga lures Shelby and her crew to a group of spirits composed of those who have died in her house. They are playing with Flora, who doesn't seem rattled by a bunch of demons dancing around her. Elias beckons to Priscilla, trying to reason with her to give Flora up. Suddenly, the Butcher's demons kill Elias by shooting arrows into his body.
Matt and Shelby run back to their house only to be greeted by Cricket, who asks them if they are ready to play by his rules now. He tells them that Flora hasn't been killed — she's just been captured by the demons. After going to the woods to find the Butcher, Cricket returns to tell Matt and Shelby that he instead had an encounter with "the bitch with the real power," aka Lady Gaga's character, known as the Witch of the Woods.
When the Witch attacks Cricket, he offers her Matt in order to appease her. He says this will help quench her "womanly needs." She accepts this offer, and Cricket returns to relay the message to Matt and Shelby, both horrified. Cricket reassures them that Matt doesn't actually have to have sex with her ... even though he ends up doing it anyways.
Cricket also informs Matt and Shelby that the Witch offered him a spell that could prevent the colonists from harming them, but he has to go back to his hotel to pick up a few items first. His Uber arrives, and he is on his way.
Meanwhile, Matt and Shelby wait for Cricket to return back at the house. After Shelby falls asleep, Matt heads outside into a storm cellar, which he believes might contain Elias's body. Inside, he finds the Witch of the Woods, who seduces him and tells him her life story. Supposedly, she was an English descendant of the Druids who was transformed into a witch. The intimate moment is quickly cut short as Shelby screams for help while the demonic colonists begin to swarm the house.
Cricket, who got out of his Uber to help Flora when she jumped in front of the car, was captured. In the most disturbing sequence so far this season, Cricket is disemboweled as Shelby and Matt watch in horror.
The most pressing question left for this season of American Horror Story isn't even plot-related. That question: Where is Evan Peters? Viewers will hopefully find out during the next episode, airing Thursday at 10 p.m. Eastern on FX.