Hurricane Matthew Florida 2016: Storm expected to intensify as it nears east coast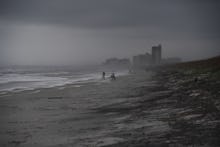 Hurricane Matthew was "pounding" areas of the central Bahamas as of 2 a.m. Thursday morning, according to a bulletin from the U.S. National Hurricane Center — and the storm is only "expected to intensify" as it moves northwest toward Florida. 
A Category 3 hurricane with winds as high as 125 miles per hour as of a 5 a.m. bulletin from the Hurricane Center, Matthew is expected to upgrade to Category 4 as it heads toward Florida's east coast. 
At 5 a.m., the storm was located 255 miles southeast of West Palm Beach, Florida.
The eye of the storm is expected to pass across northwestern Bahamas during the day on Thursday. From there, it'll move very close to the east coast of Florida Thursday night through Friday night. Parts of Florida may begin to experience tropical storm conditions by late morning on Thursday. 
Around 2 million people have been urged to evacuate their homes and head inland, the Associated Press reported. Though some are following orders, others are refusing to move. 
"It's part of Florida life I guess, especially on the coast," Cape Canaveral, Florida, resident Robert Tyler — who plans to weather the storm with the help of "two generators, 50 gallons of fuel and enough food and water for a week" — told the AP.
On Monday, Florida Gov. Rick Scott tweeted that he had declared a state of emergency in every county in Florida "due to the severity and magnitude of Hurricane Matthew." 
In an early Thursday morning tweet, Scott suggested residents follow recommendations to evacuate.
"This is a dangerous storm," Scott said, according to the AP. "The storm has already killed people. We should expect the same impact in Florida."
Hurricane Matthew has reportedly killed at least 16 people in the Caribbean.