Sean Hannity attacks Fox News colleague Megyn Kelly for being an actual journalist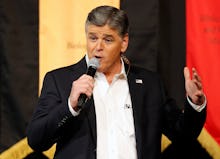 Fox News host and fervent Donald Trump supporter Sean Hannity attacked fellow colleague Megyn Kelly on Wednesday night, accusing her of being a Hillary Clinton supporter after Kelly delivered some hard truths about Hannity's candidate of choice.
"Donald Trump, with all due respect to my friend at 10 o'clock, will go on Hannity and pretty much only Hannity and will not venture out to the unsafe spaces these days, which doesn't exactly expand the tent for either one of them," Kelly said on her show Wednesday night, accurately pointing out that Trump has rarely done interviews with anyone else since his disastrous press conference after the Republican National Convention in July.
Kelly's statement irked Hannity, who took to Twitter to accuse Kelly of being a Clinton lackey.
"Clearly you support her," Hannity said in the tweet.
Hannity has basically served as an extension of the Trump campaign's communications shop over the past few months, lobbing softball questions Trump's way and allowing Trump to test campaign messages on his show.
Hannity was even reprimanded by Fox News for appearing in a Trump campaign video in which he declared his support for the billionaire's candidacy.
Kelly, however, has been tough on both candidates.
She called out Clinton just last week for the same thing she called out Trump for: doing an interview with a friendly source.
Twitter was unkind to Hannity for his attack on Kelly.